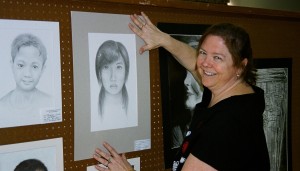 Tel Hai Retirement Community will host the 19th Annual High School Student Art Show in the auditorium/chapel on Friday, February 20 and 21, 2015 located at 1200 Beaver Dam Road, Honey Brook, Pa.  The works will be available for the public's viewing and enjoyment from 9:00 AM until 4:00 PM each day of the exhibit. The event is free and open to the general public.
Tammy Jacobs, Director of Tel Hai's program, has invited local high school art teachers to select student works for display at the popular show. Historically, participation has included art works from students in the Coatesville, Downingtown, Pequea Valley, and Twin Valley School Districts and the Conestoga Christian High School. Tel Hai is always eager to welcome the exhibit on campus; it is a long-time favorite of residents and the local community.
Guests are invited to vote for their favorite art work for "People's Choice" honors.  Awards will be presented to the top vote-getters. Juried artists, Caitlan Erb and Velma Magill, will review the installation and select works to receive honors in accordance with published Scholastic Art Awards categories.
These include: ceramics & glass, design, drawing, mixed media, painting, photography, printmaking and sculpture.
Tel Hai Retirement Community, an accredited nonprofit continuing care retirement community, has provided high quality and compassionate care since 1956.  The campus is located at 1200 Tel Hai Circle, Honey Brook, PA., three miles east of Route 10 off Beaver Dam Road. For more information or directions, please visit www.telhai.org.