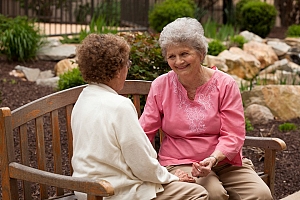 A child of Springfield, Delaware County, Joy Settles has been a resident of Tel Hai for six years. She brought with her an affinity for volunteering, and she gives her time in a large part to Lakeview. She works the desk and serves refreshments as she spreads sunshine throughout the rooms there, and for this, we shine our volunteer spotlight on Joy Settles.
Having completed her nursing training after high school, Joy worked at the Bellingham Retirement community. Balancing her career with marriage and parenting, Joy had four children, seventeen Grandchildren, and ten Great Grandchildren – that's a lot of love!
All the while, Joy  lived by the words of wisdom her mother had shared with her: other told her that her name "joy" meant: Jesus 1st Others 2nd Yourself Last. In fact, Joy adds, her mother got her into volunteering by telling her time and again to "Help others Joy." Following this example, Joy has volunteered over 4000 hours at Sunrise in Exton. Joy says, "I can't imagine NOT volunteering, it gives you a sense of purpose every day."
When asked about her, staff tells us, "Joy is a great volunteer. She loves to help at parties- setting out the decorations and serving the cupcakes and ice cream. She also helps with our craft classes. Joy is a real help to our Wellness department. She also does some of our paperwork. On top of that she enjoys helping out on Sundays with the refreshment cart. She travels with us throughout Lakeview, with goodies that our residents bake, offering them to everyone. We love Joy! She also volunteers at the front desk in Lakeview. She's a part of the Lakeview family.
The rewards Joy receives multiply as she continues to serve. She likes to feel needed and wants to be helpful, so volunteering is a very good fit. Volunteering at Lakeview, Joy tells us she loves interacting with the residents.
When she is not busy volunteering, Joy has many interests. She enjoys nature and taking walks, where she pauses to watch the Birds, appreciate the flowers, and admire the lily pond near the chapel. With a passion for music and fun, Joy likes decorating for Tel Haven functions. To create a touch of color for their parties, she cuts hearts out for the valentine luncheon and shamrocks for the St. Patrick's Day luncheon.
For indoor activities, Joy likes reading poetry and line dancing. Among her many volunteer activities, Joy sits at the Lakeview desk, Joy is a dedicated volunteer there and she keeps an eye open always looking for new volunteers. She likes to work the weekend hours, because she says, "I get to see the people, and visit with them."
Joy is a people-person. She likes taking residents juice or crackers when they are sitting out on the front porch, and she likes to help people as they come in the front doors visiting.
When asked why she chose Tel Hai, she tells us she has a very dear friend here, Pat Caroll. They met many years ago during a snow storm in 1961, and have been friends ever since. Pat lived here, and that helped influence Joy's decision. Finally, after having waited eleven long wait-listed years for an apartment, Joy moved in moved into Tel Haven, which, she recalls, was during a very HOT month of June the Electric was out so there was no air conditioning.
The checklist of areas and activities Joy helps with goes on and on…
Monthly census activity sheets in activity book for LV
Lakeview desk on weekend
Lakeview activities and refreshment cart
LV birthday parties
Read Mail to residents that request it
Care for Chapel flowers
Worship Committee and Chapel Usher
Communion Preparation
Visiting Residents
Prepare mailings and stuff envelopes
We are always looking for new volunteers for the different areas of Lakeview, such as sitting at the reception desk to help with residents or direct visitors or adding a touch of festivity to their parties.  Joy is our main go-to person there.  If any of the Lakeview volunteer opportunities beckon to you, contact the Volunteer Office – we need you! For inspiring us and for helping us in so very many ways, we highlight Joy Settles in the volunteer spotlight, and we thank her for her energy and the example she brings to the Volunteer Office.