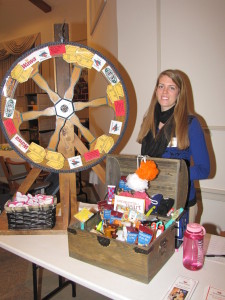 The Tel Hai community's annual blood drive exceeded their goal on January 30 by collecting 42 whole blood donations—the maximum number possible during the event. For the 58 year old retirement community it was the most successful blood drive to date.
Miller-Keystone Blood Center representatives and volunteers set up their operations on-site at the Tel Hai campus located off Beaver Dam Road, east of Route 10. The organization provides blood products to the Brandywine and Paoli Hospital locally. Donors were provided with a blood pressure check and cholesterol test results were mailed to individual's homes.
In all, 27 Tel Hai staff members and 13 residents were blood donors. Two persons from the greater community also contributed that day. Miller-Keystone provided refreshments to all blood donors and the Tel Hai Volunteer Services Department had $200 worth of prizes and small token items to offer each participant with a spin of the wheel. Tel Hai also made a $250 cash donation to the American Heart Association on behalf of the donors. During the month of February heart health was also the focus of an educational presentation; healthy eating options are offered on campus daily.
The Tel Hai community was founded in 1956 by two local Mennonite congregations to offer care to area seniors. Begun in a farm house that sheltered 14 residents, the nationally accredited nonprofit community has grown to over 600 residents who enjoy an active lifestyle in a variety of cottage and apartment residences as well as supportive living in personal care and the health care center. The 149 acre campus also offers and Child Day Care, respite and rehabilitation services to the greater community.
PHOTO 1: Volunteer Office Coordinator, Amy Whary welcomed blood donors and encouraged all to spin the prize wheel before getting to the business at hand. The event collected 42 whole blood donations.