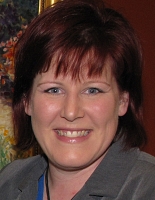 The Tel Hai Library Committee is currently collecting donations of books, VHS tapes and DVDs in good condition which will go on sale at bargain prices on Thursday, April 3.  We invite avid readers on and off campus to take advantage of this wonderful opportunity to share items through donation and then add exciting new titles to your home library at the sale!
You are welcome to peruse the stacks on Thursday, April 3 from 9:00am until 5:00pm and again on Friday, April 4 from 8:00am to 1:00pm in the Tel Hai Chapel. Last year we collected more than 200 boxes of items for the sale which were sold at bargain prices. Any items remaining at the end of the two-day sale are donated to the Honey Brook Community Library for their annual fund raiser.
Past sales have made it possible for the Tel Hai Library Committee to expand the stacks, enhance the library's variety of materials offered, and added a magnification center for residents with visual impairments. The Library Committee members including our Chair, Georgia Cloonan, Veanna Baxter, Pat Butler, Elaine Fling, Sarah Foreacre, Jean Gould, Margaret Ionni, Donna McLay, Tom Meredith, and Mollie VanZanten look forward to seeing you at the sale April 3rd and 4th!
Keeli Looper,
Volunteer Services Director