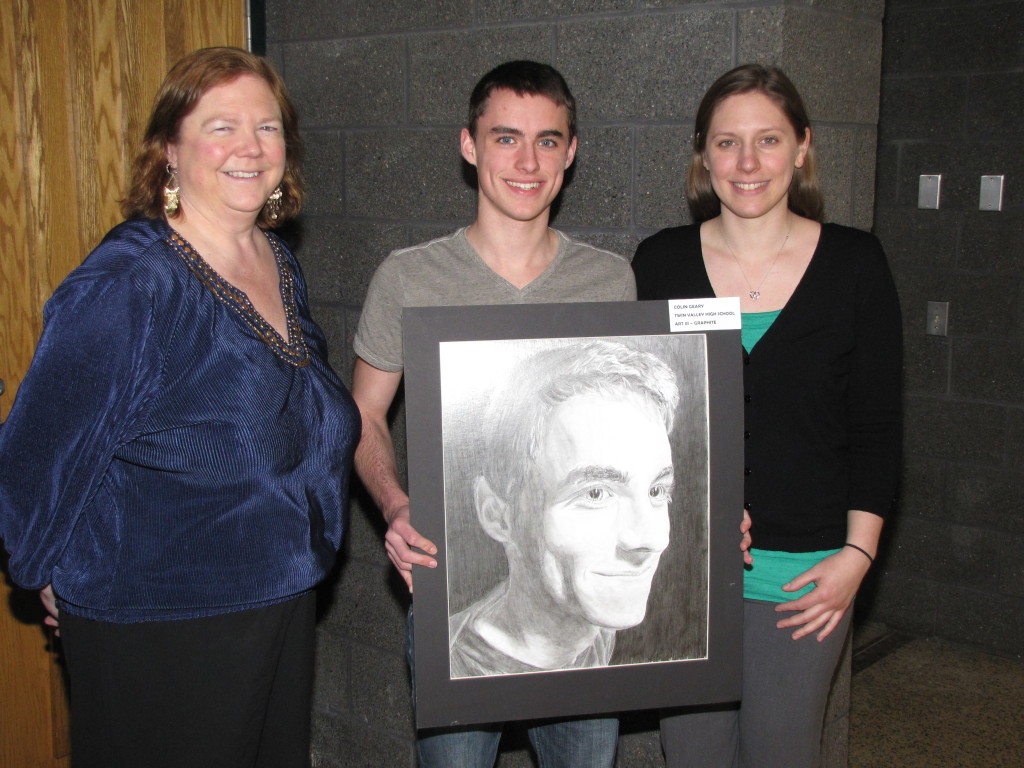 Tel Hai's 18th Annual High School Student Art Show attracted a faithful crowd of over 200 persons who enjoyed the exhibition of 110 works by area youth. Artistic creations by students from five local high schools were on display Friday and Saturday, February 7 and 8, 2014 to the delight of the guests. With power restored on Tel Hai's campus by Thursday, residents and community members seeking a pleasant diversion were rewarded with fine art works in various mediums. Juried local artists, Velma and Renny Magill applied Scholastic Art Award Categories to award 35 first and second place ribbons and numerous "honorable mentions" for the students' fine work. Art instructors and participating students were celebrated at the Friday evening reception with musical accompaniment provided by David Hicks, a Tel Hai chaplain, on piano. The traditional "People's Choice" winners were determined by the close of the event on Saturday afternoon by popular vote of attending guests.
Event coordinator, Tammy Jacobs, Director at Tel Hai, presented the People's Choice awards on February 27 at Coatesville Area Senior High (CASH) and the Twin Valley High School (TVHS). First prize winner, Colin Geary of Birdsboro, is a junior and student of Ms. Samantha Rowlands at TVHS. Winning with his self portrait in graphite, Colin has enjoyed drawing from life since art classes began in Middle School. Colin carries a heavy academic course load but like his twin brother, Colby, also participates in cross country and track. With a strong interest in engineering and biology he will start looking at in-state colleges in the coming months. Colin also received a 1st place award for his drawing by the juried judges.
Second prize went to CASH senior, Alexis Harvey-White for her acrylic painting, "Fearless." This Chester County native has enjoyed art classes throughout her school years—exhibiting for the first time in 4th grade. Alexis first realized she had a real gift for art in high school. "I've always enjoyed art classes and loved drawing." Her favorite subjects are animals and to date she's enjoyed creating a leopard, a parrot, a whale and penguins in earlier assignments. Future plans include majoring in Criminal Justice at Shippensburg University…but she will continue working in art adding, "You can use art in criminal justice work, too." Alexis's acrylic painting received a 1st place ribbon in the juried judging of the painting category.
CASH senior, Lydia Ritter of Pomeroy, admits to engaging in art as a form of competition with her older sister who Lydia described as "a born artist." She added, "I like to chase the impossible." Wining the 3rd place award this year for her acrylic, "St. Malachi Church," confirmed her sense of accomplishment. Lydia prefers watercolor and pastels and has seen her skills grow in Carolyn Worth's AP course this year. She is looking for an apprenticeship opportunity that will allow her to continue in the art field after graduation. The juried judges awarded Lydia with 2nd place ribbons in the drawing and painting categories.
Winners of 1st and 2nd place honors in defined categories selected by judges, Velma and Renny Magill of Lancaster County, included the following students. An additional 14 "honorable mention" awards were also granted. An asterisk * denotes 1st place winner:
Tel Hai is honored to have this opportunity to showcase the artistic talents of local young people and offers thanks the art instructors for their support of the annual exhibit and their encouragement of students in the arts.
PHOTO 1: (From left) Tammy Jacobs, Tel Hai Director and Student Art Show Coordinator, congratulates Colin Geary, first place winner of the People's Choice Awards. Tel Hai's 18th annual student art show was held February 7 & 8, 2014. They are joined by Colin's instructor at Twin Valley High School, Ms. Samantha Rowlands.