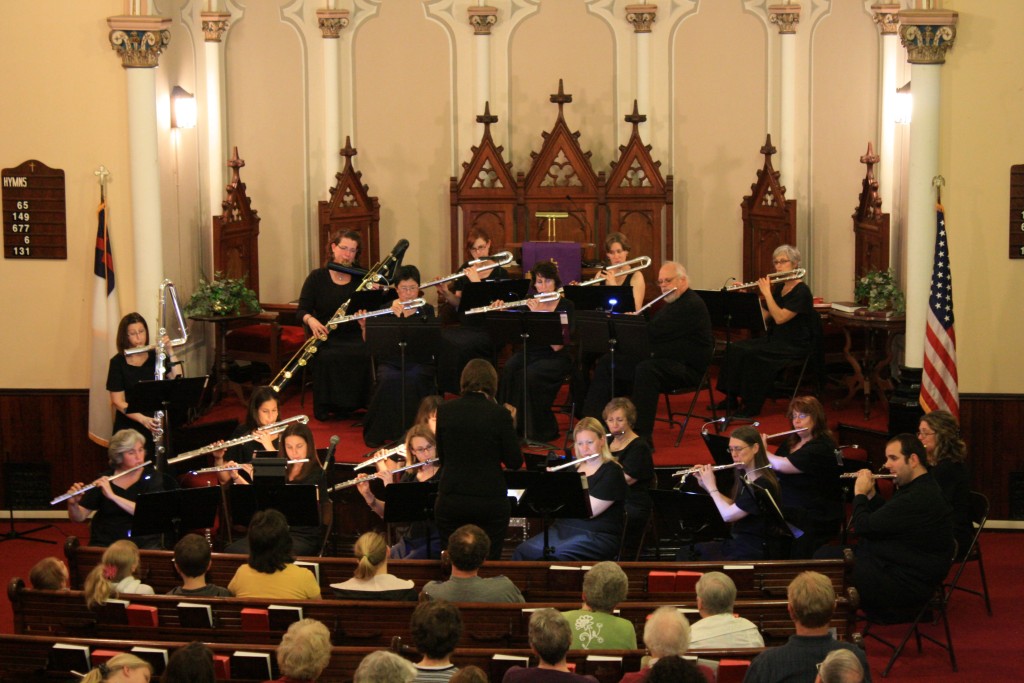 Tel Hai's concert series continues on Saturday, March 22, 2014 at 7:30pm with the Pennsylvania Flute Choir performing from their classical repertoire. The concert will be held in the Chapel on Tel Hai's campus located off Beaver Dam Road in Honey Brook Township, east of Route 10.
The Pennsylvania Flute Choir, under the direction of Dr. Debra Torok, was formed in 2002 by Flutist Georgia Dimaano. Dr. Torok, Music Director since 2011, is also a professional recording artist, pianist, composer, conductor and teacher.  Their performance at Tel Hai will include classical works by Mendelssohn, Haydn, and Mozart.  A special slide presentation will also be presented to accompany works by Sonny Burnette entitled "Stained Glass Images" as well as "The Planets" by Gustav Holst. The latter includes beautiful original images by astronomer Juan Carlos Guerra.
The Pennsylvania Flute Choir is an auditioned, community group with more than 20 members from southeastern Pennsylvania, Delaware, and New Jersey.  The choir performs throughout the tri-state region for engagements such as community concerts, weddings, religious services, private parties, and special events. It also performs at regional flute fairs and flute society events and conventions.
Admission to the event is free and open to the public. For directions visit the Tel Hai community's website at www.telhai.org and click on the "Contact Us" tab. With your GPS please use the 1200 Tel Hai Circle, Honey Brook address.
The nationally accredited non-profit Tel Hai community has been serving senior adults since 1956 providing a variety of choices in housing as well as quality care and services.
PHOTO: The Pennsylvania Flute Choir will perform a variety of pieces from their classical repertoire at Tel Hai's chapel on Saturday, March 22, 2014 at 7:30pm. The concert is open to the public and offered free of charge.