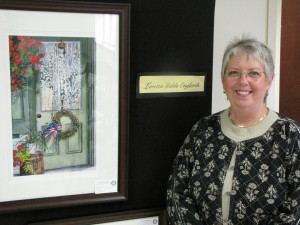 Watercolor painting classes will resume on the Tel Hai campus in January. Would you like to give it a try? Aspiring artists of all skill levels are welcome to join in the fun. Local artist and instructor, Loretta Gable Englerth, will begin a six-week session of instruction on Thursday, January 15, 2015 at 9:00am.  These classes meet in the Art Room located in the Hillcrest apartment building. Mrs. Englerth will lead the class with a focus on the individual artist's point of view. Learn how to develop aesthetic insights that will help you define your own "style." Issues of composition, contrast, color, and paint application will be emphasized.
The fee for the six-week course is $60 per person; this course will conclude on February 19. A spring session will be offered later in the new year. Registration and payment for watercolor instruction is arranged directly with the instructor by calling 610-383-1330. Pre-registration is requested because class size is limited.
Beginners should bring the following supplies to class: a spiral drawing tablet, (B) & (H) drawing pencils and erasers. Returning or experienced students may also include paints, brushes, and other basic supplies. Students are encouraged to bring a picture of a favorite subject to use as inspiration for their own drawing and painting.
Tel Hai's campus is located off Beaver Dam Road, east of Route 10 in Honey Brook Township. For directions please refer to 1200 Tel Hai Circle on your GPS; online, visit the website www.telhai.org and click on the "Contact Us" tab.
PHOTO: Local artist, Loretta Englerth, will offer six-weeks of watercolor painting instruction on Tel Hai's campus beginning on Thursday, January 15 at 9:00 AM. Class size is limited so pre-registration is requested to avoid disappointment. Learn a new skill in the New Year and discover your inner artist!