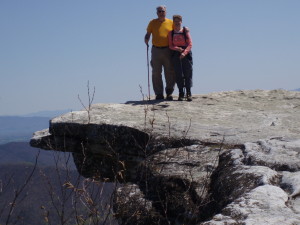 Tel Hai's Life Enrichment Committee (LEC) is pleased to present an engaging program recounting the experiences of community residents Dave and Ginger Schramm and Annie Law—all members of the Chester County Trail Club. The public is invited to "walk along" with these life-long hiking enthusiasts on Friday, January 31 at 7:15pm in the Auditorium/Chapel on the Tel Hai campus located off Beaver Dam Road, east of Route 10.
Annie Law will share tales of her travels along the Appalachian Trail. Completed in 1937, the "AT" as it is known, crosses 14 states and is one of the world's longest marked footpaths. Mrs. Law completed the entire 2174 miles from Georgia to Maine! Mr. & Mrs. Schramm have covered more than half of the Appalachian Trail and count McAfee Knob, near Roanoke VA as their favorite spot along the trail. Dave and Ginger have hiked throughout the United States and in Switzerland…racking up approximately 12,000 miles each over the years.
The general public is welcome to attend this fascinating program. Directions to Tel Hai can be found on the website: www.telhai.org. If using GPS, please enter the 1200 Tel Hai Circle physical address. For nearly 58 years Tel Hai has provided worry-free cottage and apartment living, as well as personal care, rehabilitation, respite and health care services in Chester County.
PHOTO: Dave and Ginger Schramm consider McAfee Knob in VA as their favorite spot along the Appalachian Trail. Join them and Annie Law for an interesting evening recounting hiking adventures on Friday, January 31 at 7:15pm in the Tel Hai Auditorium/Chapel.