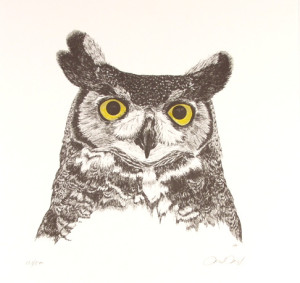 Local artist, Martin May of Romansville, will be the featured artist in the gallery of Tel Hai's Welcome Center beginning January 3, 2014. Examples of his fine work in pen and ink will be on display and available for viewing on weekdays between 9:00am and 4:00pm.
Martin May, a graphic artist by training, retired as a commercial artist to establish a fine art career and now enjoys concentrating on his on artistic pursuits. He attended the Pennsylvania Academy of the Fine Arts (PAFA—the nation's oldest art museum and art school) and the John Hussian School of Art, both located in Philadelphia.
May specializes in finely detailed pen and ink drawings of wildlife and historic buildings and structures. He also has been commissioned to do portraits of private homes, commercial buildings and pets. He inserts a touch of humor into his art whenever he can.
Martin's work has been featured in galleries and shows across the county. Many private and corporate collections throughout North America, Europe and China also contain his work. He has also won numerous awards and had work published in magazines. His philosophy is simple—"If I can make a living doing something I love and make one person reminisce or smile, I have succeeded." Time spent in Chester and Potter Counties of Pennsylvania offers a multitude of locations that serve as inspiration for his art and provide opportunities to hone his technique while enjoying the region he loves.
PHOTO:  The "Great Horned Owl" is one of many works by local artist, Martin May. Mr. May's drawings will be featured at Tel Hai beginning on January 3, 2014. His intricate work in pen and ink will be on display in the Welcome Center on campus and can be viewed Monday through Friday between 9:00am and 4:00pm in the "gallery" area.