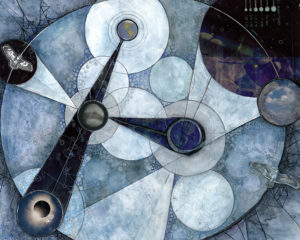 Tel Hai Retirement Community invites the community to attend a 'Meet the Artist' Dessert Reception & Open House with professional artist Jen McCleary on Friday, January 27, 2017 from 1-3 PM in the StoneCroft Common's Clark Gallery.
Join us for this free open house and reception, which is open to the public. Jen's artwork is currently on display within the gallery through January 31, 2017. A portion of the proceeds from each piece of artwork sold goes to Tel Hai Retirement Community's Care Assurance Fund for residents that outlive their ability to pay for their care.
Jen McCleary studied painting and printmaking (BFA) at Tyler School of Art, Philadelphia, PA, and graphic design (Certificate) at University of the Arts, Philadelphia, PA, as well as completing a custom interdisciplinary Master of Liberal Arts (MLA) at University of Pennsylvania, Philadelphia, PA.
The roots of her art lie in the process of collecting images, ephemera, and found objects, which she layers, alters, or arranges to create something new. She works both digitally (photo-collage and graphic design) and in more traditional forms (mixed-media collage/painting and jewelry made from found and vintage objects). No matter the medium, she prefers to work intuitively, letting each piece evolve over time and in unexpected directions. Her work is more a form of meditation or playful exploration than a deliberate attempt at communicating a specific concept, although she does believe that images and objects can act as carriers of meaning and emotional resonance. She is interested in symbolism, wonder, hidden connections between things, the passage of time, imagined landscapes, ways of understanding the world, and dualities including the manmade vs. the natural worlds, light vs. dark (metaphorically and literally), and complexity vs. simplicity.
Event is hosted in the StoneCroft Common's Clark Gallery, on the campus at Tel Hai, located at 4000 Tree Line Drive, Honey Brook. We are only 3 short miles east of Route 10 off Beaver Dam Road. Follow Beaver Dam Road to the campus of Tel Hai, then turn onto Tree Line Drive and follow signs to StoneCroft. Parking is available adjacent to the StoneCroft commons main entrance.
Tel Hai Retirement Community, an accredited nonprofit continuing care retirement community, has provided high quality and compassionate care since 1956. For more information or directions, please visit www.telhai.org.
__________________________________
Founded in 1956, Tel Hai Retirement Community is a non-profit, 501(c)3 Life Plan Community (formerly a continuing care retirement community) located in the rolling countryside of Chester County in Honey Brook Township. Tel Hai offers the full-continuum of aging services including residential living, personal care, health care, , home care services and therapy services. Tel Hai is dedicated to providing high quality care and services to enhance personal dignity, autonomy and lifelong enrichment as a demonstration of Christ's love for all persons, including more than 850 residents and 500 team members. Tel Hai is nationally accredited by the independent Commission on Accreditation of Rehabilitation Facilities-Continuing Care Accreditation Commission (CARF-CCAC.)