"My summer as a youth volunteer is awesome."

Gavin Keegan, Summer Youth Voluneer
At first I didn't know much about the program, then soon realized it was a great time. I think this volunteer opportunity is great for young teens to experience the life of a real worker.
My favorite places to work are in food services, child day care and maintenance. I enjoy working in the Garden Café because I like to help roll silverware with Millie. I also enjoy the other jobs offered in the Café.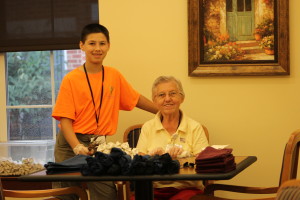 In the child day care, I love helping the little kids. I like to help read to them or simply coloring with them.
I like to work in the maintenance department because I like to do outside work such as pulling weeds, or helping form a creek.
Next, I also love meeting and talking to the residents because they are so nice to talk to.
I also like how we get to pick our shifts to work, that way I don't have to work the whole summer and I get some days off.
My perspective of volunteering is that I am helping the community and making it a better place because at the end of the day, I know I have made a difference and helped someone out.
Gavin Keegan, Summer Youth Volunteer Age: 13, Twin Valley School District