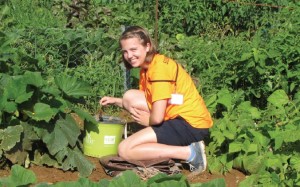 Every summer, the Tel Hai campus is blessed with bright, shining, youthful faces eager to help during their summer break. The summer of 2015 was no different; this summer we were lucky to have 45 Summer Youth Volunteers help in a variety of activities over an 8 week period.
Students from 7 school districts, ranging in grades 6 through 10 can be seen in bright orange t-shirts all over campus, Monday through Friday, 8am-4pm doing a wide variety of tasks. Whether it's digging in the dirt with our Grounds department, reading a book with the children in the Child Day care center or rolling silverware in any of the 4 dining locations, we thank these 45 youth volunteers for providing vital assistance to our staff and we feature our Summer Youth in our Volunteer Spotlight!
When our volunteers are not lending a hand for us they enjoy ALL kinds of summer fun activities. From riding dirt bikes to running, and other sports, to video games, crochet and even a navy sea cadet, our youth volunteers are busy 12 months a year!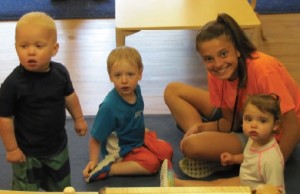 We are very lucky that 21 volunteers returned to us from last summer, and even a few have been here for 3 summers! We have 24 brand new volunteers with us this summer and we're hoping to grow even more next summer!
These 45 amazing youth volunteers will contribute almost 2,500 hours over the summer and for that, and their bright, smiling, cheery faces, we say THANK YOU and highlight our Summer Youth volunteers in our Volunteer Spotlight!