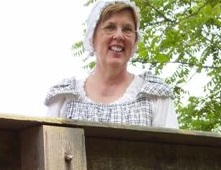 Tel Hai Retirement Community invites the public to a life enrichment lecture entitled "Fragile Freedoms" featuring The Hopewell Furnace National Historic Sites' Christine Emmert on Friday, May 1 at 7:00 PM in the community's chapel located off Beaver Dam Road in Honey Brook Township.  Admission to the event is free and open to the public.
Emmert, a local playwright/director and actress with a keen interest in women's issues, will take attendees on a journey from 1776 to today with the company of Sojourner Truth, Mark Twain, Elizabeth Cady Stanton and others.
Emmert holds a Masters in Humanities. Her belief in the arts as the transformer of lives goes deep. The piece she adapted with Katherine Mallon-Day, "The Yellow Wallpaper" was performed to enthusiastic audiences at the Philadelphia Fringe in 2014. Her novel, "The Nun's Dragon" is presently out on Amazon Kindle.
Tel Hai Retirement Community, an accredited nonprofit continuing care retirement community, has provided high quality and compassionate care since 1956.  The campus is located at 1200 Tel Hai Circle, Honey Brook, PA., three miles east of Route 10 off Beaver Dam Road. For more information or directions, please visit www.telhai.org.