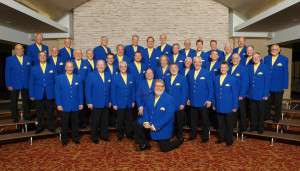 Tel Hai's concert series continues on Thursday, December 18, 2014 as The Mainliners male chorus returns to the stage. This Christmas-themed concert will begin at 7:30 PM in the Chapel on Tel Hai's campus located off Beaver Dam Road in Honey Brook Township, east of Route 10.
With more than 40 active members ranging widely in age, the chorus performs a variety of songs in four-part a capella style. Formed in Bryn Mawr in 1963, the group now holds rehearsals each Monday evening at St. Paul's Episcopal Church on Old Lancaster Pike (Business Route 30) in Exton. Singing in the barbershop style, the group is celebrating their 51st anniversary this year.
Their musical style had its roots in the 1870s and flourished into the 1920s. This popular genre has mushroomed since 1938 into the Barbershop Harmony Society—the world's largest men's singing organization. Including enthusiastic renditions of sentimental ballads, snappy rhythm tunes inspirational songs, classic standards and rousing patriotic numbers; they are guaranteed to please a variety of audiences.
Admission to the event is free and open to the public. For directions visit the Tel Hai community's website at www.telhai.org and click on the "Contact Us" tab.
The nationally accredited non-profit Tel Hai community has been serving senior adults for over 58 years providing a variety of housing options as well as quality care and services.
PHOTO: The Mainliners Men's A Cappella Chorus will perform a rousing collection of songs in four-part harmony at Tel Hai's chapel on Thursday, December 18, 2014 at 7:30pm.