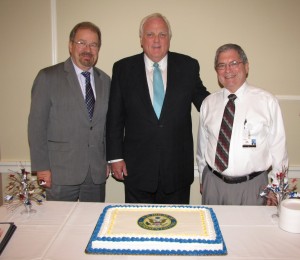 On Monday, July 21 State Representative Tim Hennessey of the 26th Legislative District was honored for his long service and advocacy of issues important to older Pennsylvanians. Serving in the State House of Representatives since 1993, Hennessey has been a stalwart supporter of older Americans. As the Majority Chair of the Aging and Older Adult Services Committee for the past four years, Hennessey has seen growth in program support for this vulnerable population.
The tribute, held on the Tel Hai community's campus, featured opening remarks by President & CEO, Joe Swartz and comments in support of Rep. Hennessey's history of advocacy by Ron Barth, President of LeadingAge™ PA—the Pennsylvania based association which represents over 360 not-for-profit providers of senior housing, healthcare and community services. Hennessey was presented with a plaque by Barth congratulating the State Representative for his support of Chester County seniors. That was followed by a certificate of appreciation from Swartz on behalf of the Tel Hai Board of Directors.
Representative Hennessey commented that he usually visits Tel Hai to honor others for living well. He faithfully provides a citation from the State House to mark the milestone birthdays of centenarians on campus. "I always enjoy celebrating with friends and family when someone has lived a good, long life. It is an accomplishment to be recognized," said Hennessey. On this day the tables were turned.
In his remarks to the group of residents, staff and family members present, Hennessey recounted many legislative achievements in recent years that have supported senior adults including the amended Family Caregiver Act, the Uniform Guardianship Jurisdiction Act, and successfully overturning the insurance companies mandate to use mail-order pharmacies for prescription medications. Work continues with the bilateral Commission responsible for developing an Alzheimer's Treatment Plan for the Commonwealth. More and more focus on the needs of the elderly has been noted in Harrisburg, including an ongoing study on long-term care.
Refreshments were provided by Tel Hai's Dining Services staff and dance music by resident DJs Russell and Eva Hyde.
PHOTO: State Representative Tim Hennessey was honored for his efforts in service to seniors throughout the region at a tribute ceremony held on Tel Hai's campus in Honey Brook on July 21. From left: Ron Barth, President of LeadingAge™ PA, Representative Hennessey and Joe Swartz, President of the Tel Hai community.