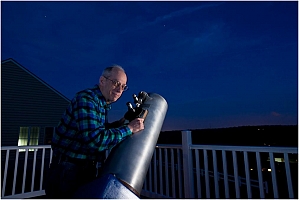 Intellectually curious, Dick Sauder is compelled to resolve problems by figuring out the source of the problem. Why has this stopped working? Why does this take too much time? Because he solves problems, fixes things, figures out the best way to perform a task, dedicates his time to do a job right, we are shining our Volunteer Spotlight on Dick Sauder.
He is dedicated to entering in our volunteer time correctly. After residents log their volunteer hours in the log book, Dick spends several hours per week into our tracking database. It is very important to Tel Hai that these hours are accurately tracked, and Dick takes this job seriously. The hours in the tracking datrabase3 are compiled and used each time we file for tax- exempt status.
Dick reminds us that we need to report the AREAS of care people are volunteering in, not the task they are performing. For example, we need to report areas like Residential Living, Lakeview, Meadows, Development, and . Dick sits by our computer for hours and meticulously enters the hours each of us has entered into the Volunteer Hours Log Book.
With continued attention to detail, Dick loves an intellectual challenge. If it doesn't run, and it needs to run, Dick figures out how to fix it. That's what he does. He has an amazing talent for fixing things with moving parts, such as clocks. The Grandfather clock that had been donated to Tel Hai and is located in the Chapel Lobby had stopped working. Dick took on the challenge to figure out WHY it was not working. He figured it out, and he fixed it.
In addition to resolving mechanical problems, Dick has a passion for the stars, the solar system, and the natural astronomical wonders of God's creation. He built a scale discovery model of the solar system so residents could compare relative sizes of the planets, and their distances from the sun.  With this model, we took a stroll around our solar system out to the planet Saturn at 700' from the sun and learned about it in a way not usually available to us.
Since 1967, Dick and his wife, Ruthie, built over a half dozen telescopes. Imagine that: a hand-made telescope! HE tells us he started building the largest one, a 16" diameter in 1987, and, when it was completed, he started having visitors look through it in 1990. He has been sharing it ever since. Dick has done demonstrations and shared his self-taught knowledge of the stars with over 2000 people.
Dick also uses his personal CAD computer system to create maps of our campus. We have asked him multiple times to help with Marketing events like Day in the Countryand Holly Trail by creating maps that highlight open homes, helping guests and visitors locate the homes they wish to see. His maps are not limited to the out-of-doors. Using his computer expertise, he  created a map of the library, helping avid readers locate the best seller for which they had been looking.
Following his passion for teaching, Dick helps with presentations in the Chapel. He sometimes runs the computer and has recently learned the sound system to ensure participants can hear what is being said. He also participates in the Men's Bible study group by operating the DVD system. Recently he helped the group get a 28 DVD set that covers the entire book of Revelation.
For his passion for life, love of learning, aptitude for teaching himself and others, a penchant for figuring out and solving problems, and for his willingness to share his love of God and fellow residents, we thank Dick Sauder and highlight him in our Volunteer Spotlight.