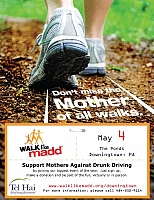 Since July 2010, at least seven young people have been killed in alcohol-related crashes in the Honey Brook/Downingtown area alone. This horrific and tragic statistic has become a fact of life that has had an irrevocable effect on the families and friends of the victims. To honor the memory of these local youths who lost their lives in drunken driving crashes, a 5K walk is being held in Downingtown on Sunday, May 4, 2014.
Organizers are urging community members to join in the fight with MADD (Mothers Against Drunk Driving) on that date as walkers or trail volunteers.
WALK like MADD® is the organization's signature event. It will be held in over 60 cities throughout the nation, involving thousands of walkers united by the goal of creating a brighter future without drunk driving and underage drinking.
The registration fee for the local event is $20 and interested volunteers can register online to walk or assist along the route which will start at 9:00am at The Ponds in Downingtown.
Tel Hai is sponsoring a team of walkers as part of our community outreach efforts. You can join us by registering online as part of the Tel Hai Team. To secure registration forms on campus, please contact Keeli Looper in the Volunteer Services Office.
For more information please call 484-252-9114 or register for the event online at www.walklikemadd.org/Downingtown.

Keeli Looper, Volunteer Services Director
Chasity Brown, Wellness Director