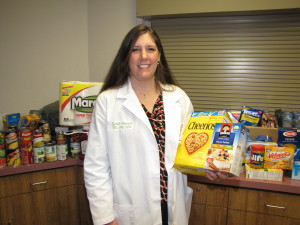 Tel Hai's annual food drive concluded on March 31, but the needs of food insecure neighbors continues to grow across the region. Sybil Oswalt, Registered Dietitian and event coordinator, announced that 520 pounds of food stuffs had been collected on campus during the community's observation of National Nutrition Month. The donations will benefit the Twin Valley Food Pantry in Morgantown.
Founded in 1994 as an outreach ministry, the Twin Valley Food Pantry has been hosted by Conestoga Mennonite Church since November 2009. Located on Main Street (Route 23) in Morgantown, the pantry has been supporting local families in need—approximately 145 families representing 425 persons have been served on an average distribution day. Working in partnership with the Greater Berks Food Bank, community churches, local businesses and organizations the program directors, Howard and Carol Moss, coordinate the efforts of approximately 60 volunteers on distribution day—the fourth Tuesday of each month. Stocking the pantry for distribution also requires the efforts of a hardworking group of high school students and other community volunteers the Wednesday before.
Tel Hai residents and staff volunteers have been active at the Twin Valley Food Pantry as well as the Shepherd's Kitchen in Honey Brook. The Honey Brook Mobile Food Pantry temporarily located at the Good Food Distribution Center on Horseshoe Pike in Honey Brook began operating in January 2014. They too depend on volunteers during their monthly distribution day on the last Wednesday of each month. The mobile food pantry was opened in response to the continuing documented need for a food pantry serving the Twin Valley School District.
PHOTO: Sybil Oswalt, Tel Hai Dietitian, thanked residents and staff who donated to the food drive held during National Nutrition Month on campus. More than 500 pounds of food stuffs will be donated to the Twin Valley Food Pantry in Morgantown as a result.