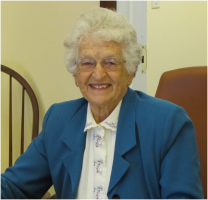 Louise Wenger shared a very busy and productive fifty-two years of marriage with her husband Bill. Life was good. Louise kept busy with parenting, farm chores, and learning the clock repair business as she helped her husband with his at-home business. But, she adds, when she lost her husband ten years ago, she realized she had some lonely hours to fill. Because she reached out to Tel Hai to fill her lonely hours, we are a better and happier place. For helping us and filling our hours with sunshine and smiles, we thank Louise.
Louise has volunteered here since 2004. She tells us that they knew Tel Hai well, because they had visited her great aunt as early on as the mid-1970s. Her husband Bill used to speak at fifth Sunday Worship services in our Chapel.
Louise tells us that she had wanted to be a nurse as a young girl, but her parents had a small farm and didn't have the funds to send her to nursing school. She never looked back on her childhood career dreams through her busy parenting years, but when her oldest daughter, Pat, went off to college, thoughts of a career returned. She spoke about working with Bill, and they decided to leave it in the Lord's hands. If He wanted her to have employment outside of their home, something would present itself as a sign. And, a sign she got! An acquaintance called and asked her to help out in a neighborhood nursing home – she did and she loved it! Her prayers had been answered.
Louise has three daughters: the first-born, Pat, lives in Alaska; her second daughter, Marcella, lives in Elverson, and her youngest daughter, Brenda, lives in Oxford. All three daughters work the medical field. Pat, who is an RN, married a Doctor in the service and moved to Alaska in 1983 following military assignments. Marcella is a dental assistant but now provides nursing care in Elverson. Brenda is an RN with Hospice in Oxford.
Her three daughters have given the next generations to Louise. She has five grandchildren, and she is eagerly awaiting the birth of her tenth great-grandchild. Louise tells of her grandchildren's careers with joy in her voice as they seem to have followed the dream and have found careers in the field of medicine ranging from RNs to research doctors.
When asked if she had ever travelled to Alaska, Louise replies, "Oh! Lots of times!" She travels easily, and plans to travel to the Alaska again when her great-grandchild is born. She adds that her grandson, who lives on the West coast, has a fishery degree and works to preserve our fish and food supply. There will be no slowing down for Louise. Not soon. Not now. Not yet!
Outside of Tel Hai, Louise also stays busy. She helps at church and is always lending a neighbor a hand. In fact, as we spoke, Louise received a telephone call from a neighbor who needed Louise to come to do some clock repair. Louise tells us she learned to repair clocks by watching her husband, and she continues to do small repairs as she can.
Before renovations changed the nature of our gift shop, Louise used to volunteer there. Following the renovations, she helps out at the front desks. In addition, she helps with Friday morning coffees in Lakeview, and she accompanies Lakeview residents on their shopping trips. For variety, she helps with the Book Sale and with Marketing's Day in the Country; but she usually does just about anything we ask.
For helping us and filling our hours with sunshine and smiles, we thank Louise. For all of the hours she gives with eager enthusiasm, we highlight Louise Wenger in our Volunteer Spotlight. Add to this, that Louise is not a resident, and we are even more surprised. She is such a familiar face. We are often surprised to learn she doesn't even live here. She knows so many people, and they all know her because of her welcoming, friendly smile and ever present, ever helpful nature.