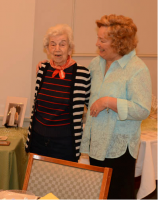 On the first day of Spring, ladies at Tel Hai gathered together for a tea; but, this was no ordinary tea. Volunteers collected tea pots and china tea cups from residents and dining services – enough to serve 130 ladies with elegance. Karen Jessee came with entertainment that was informative, interesting, and educational. She calls her demonstration, "The Way We Wore." We learned about the changes to ladies fashions – including outerwear and underwear – and the way those changes were influenced by political and economic surroundings.
We wanted to do something that showed how very much we appreciate our staff, and this seemed like an enjoyable way to give proceeds from ticket sales to the Good Samaritan Fund while spending time with our friends and neighbors. Temporarily lost in time and fashion through the years, our afternoon flew by and was gone before we realized it was time to go!  We left the day feeling good about our effort,what we learned, and what we had earned for the Good Samaritan Fund.
It is a sad day that passes by without presenting a reason to smile, a challenge to our thinking, the luxury of comfort and friendship, and an opportunity to give back to the community that cares for us so lovingly and eagerly.We did all this and more: we smiled at the humorous things women used to do in the name of beauty; we tried to figure out just how women ever managed to get those "contraptions" in place to minimize their waists and expand their hips; we languished in the comfort of sharing tea with good friends; but, ultimately, we rejoiced in the good we were able to do in giving back to the Good Samaritan Fund.
Fran Atkins, cottage resident