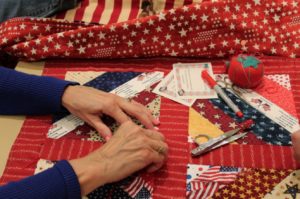 Every Monday morning, about twenty ladies gather at Tel Hai Retirement Community to enjoy one another's company and to quilt and sew for charitable causes, near and far.
Many of the ladies have been sewing for 60 years or more and learned this life-skill in school, 4-H, or from a family member. Quilts of Valor are made for veterans at the Coatesville Veterans Affairs Medical Center and at Walter Reed National Military Medical Center. Pillowcases are lovingly made for breast cancer patients and children undergoing treatment at the Children's Hospital of Pennsylvania.
Under the cheerful, patient and inspired leadership of resident Shirley Walton, new projects that continue to challenge and educate the ladies are introduced and produced by the ladies at their own pace and skill level.
Currently, the ladies are making placemats for Meals on Wheels, fidget cloths for Alzheimer's patients, and sundresses for little girls in Belize. Shirley had the ladies try shading the tulip petals using craft crayons to
 enhance the placemats and stretch the skills of this creative group.
Walker bags are made for those who would appreciate attractive bags to use while using a walker. Quilts for children are made for the Domestic Violence Center of Chester County and for first responders to give to 
children to comfort them during crisis situations.
Inspiring and encouraging one another, the ladies of Sew
Creative are bringing pleasure and comfort to many, young and old alike. They have learned at Tel Hai—the Hill of Life— that life is brighter when creating joy for others.
Joann Huntington
Tel Hai Retirement Community Resident