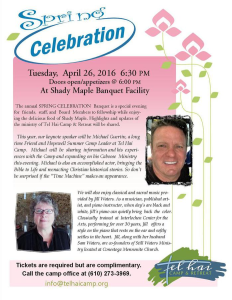 Tel Hai Retirement Community values our deep-rooted partnership with the Tel Hai Camp & Retreat, and would like to share the good news of their upcoming 'Spring Celebration Banquet' on April 26, 2016 at 6:30 PM at Shady Maple Banquet Facility.
Join the Camp & Retreat for this special time of delicious food, fellowship, delightful music, and a message from God as we share how God is using this ministry to impact lives. Bring some new friends along to introduce them to Tel Hai Camp's ministry!
Key Note Speaker: Michael "Guerty" Guertin
Music: Jill Waters, pianist – classical and sacred music
Complimentary Tickets: In order to ensure seating for all of our guests, we require that all persons attending have a ticket. Tickets are complimentary and are available by calling the camp at (610) 273-3969, or emailing the camp at info@telhaicamp.org. Please contact us by April 8th!
For more information, visit https://www.telhaicamp.org/fundraising/spring-celebration-banquet/