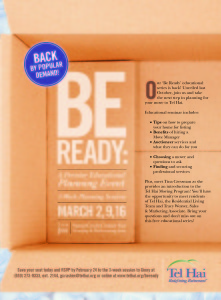 Are you ready to move to Tel Hai? Do you have questions on what steps you should be taking to prepare for your move to a retirement community?  Are you financially prepared?  How will you select a real estate company to list your home?
Tel Hai's Signature 'Be Ready' Planning Seminar originally made its début in October of 2015 to answer these important questions for future residents of Tel Hai. At that time, the focus of the first seminar series was securing your finances as you prepare to move to a retirement community
In March 2016, we offered another 3-week event that consisted of three dates, each two hours long. During those two hours we had four mini-sessions. Each week we welcomed new guest speakers and covered a wide-range of 'planning' aspects of retirement living.
Future residents enjoyed the sessions and were educated on…
HOW to get your home ready for listing
WHAT a move manager can do for you
WHEN an auctioneer should provide their services in the downsizing process
We had several Tel Hai residents share their 'moving' stories. We discovered key questions to ask about hiring a mover, how to sell items at consignment shops, what/where to donate items, where/how to recycle old electronics, the in's & out's of climate controlled storage units & essentials regarding short term housing.
We learned how Tel Hai's selection process works in our Custom Design Center. Tel Hai team members also presented about amenities and programming on our campus including Culinary Services, Social Services and Wellness!
You may have missed out, but it's never too late to start your downsizing journey to Tel Hai! Contact us today and 'Be Ready' to start the next chapter of your life with us!
Tina Cressman
Moving Resources Manager
Tel Hai Retirement Community