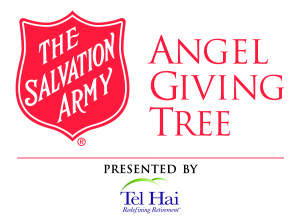 The greater community is invited to make a difference in the life of a local child by participating in the Salvation Army Toy Drive, now through December 11, 2015.
Simply pick up an "Angel Toy Tag" from a Salvation Army Toy Drive tree, located in both the Garrett Community Center lobby and StoneCroft Commons lobby on the campus of Tel Hai Retirement Community. Purchase the gift listed, and return the unwrapped item with the "Angel Toy Tag" to the donation basket!
Tel Hai Retirement Community, an accredited nonprofit continuing care retirement community, has provided high quality and compassionate care since 1956.  The campus of Tel Hai is located three miles east of Route 10 off Beaver Dam Road. Follow Beaver Dam Road to the campus of Tel Hai, then turn onto Tel Hai Circle or Tree Line Drive. The Garrett Community Center is located at 1200 Tel Hai Circle. The StoneCroft Center for Worship & Performing Arts is located at 4000 Tree Line Drive. For more information or directions, please visit www.telhai.org!