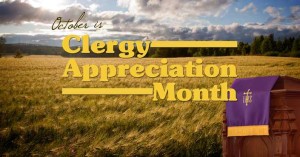 We celebrate Mother's Day, Father's Day, Grandparent's Day, Boss's Day, ….so why do we appreciate Clergy for a whole month you may ask? Some would say that these remembrance days are simply "Hallmark" creations — though they are quick to add that they are needed reminders and good ideas just the same.
Let's consider that God has given us His instruction concerning our spiritual leaders –
"…honor those who are your leaders in the Lord's work. They work hard among you and give you spiritual guidance. Show them great respect and wholehearted love because of their work. And live peacefully with each other."–I Thessalonians 5:12-13
"Remember your leaders, who spoke the word of God to you. Consider the outcome of their way of life and imitate their faith." — Hebrews 13:7
"..The elders who direct the affairs of the church well are worthy of double honor, especially those whose work is preaching and teaching." — I Timothy 5:17
About 340,000 congregations (Hartford Institute for Religious Research) have men and women serving as clergy in the US alone . The history of a formal Clergy Appreciation Month was established in 1992 with a mission of uplifting and encouraging pastors, missionaries and religious workers.
Though the special emphasis of clergy appreciation for this month has brought about many worthwhile, creative, tangible recommendations for congregations to consider in support of their clergy, one recommendation—is sometimes overlooked—and is in need of re-illuminating!
Consistent, fervent PRAYER! Year-round prayer for our clergy/leadership will by God's Spirit lead each to use his/her gifts in effectively serving our leaders and one another and lift up our clergy all year long.
Many helpful suggestions and ideas for blessing our clergy during Clergy Appreciation Month have been written about over the years for congregations choose from and plan for: they include, giving special gifts, holding banquets, card showers, special weekend away, church family videos of thanks, honoring pastors at picnics, giving scholarships, etc.
Having a well-thought out plan for focusing on consistent, fervent PRAYER   could be helpful as well. As you recommit to PRAY for your pastor(s) and clergy, here are a few suggestions that may help:
Put a picture of your pastor/family in your daily devotional to remind you to pray each day.
Ask your pastor to share a specific prayer request he/she might have for the year ahead.
Select a specific day of the week to pray every week all year for your pastors and all the leaders of your church.
Take time to listen for the Spirit leading you to act in a tangible way as you pray.
Pray consistently for another pastor in your community other than your own pastor
Pray fervently for another pastor/mission pastor in another state/country other than your own. Follow up with a letter, email or gift.
Use a monthly guide with prayers and Scripture for each day to pray for pastors.
We are all called to partner with God to PRAY for our clergy/pastors for the building up of the Body of Christ around the world. Prayer is a gift and privilege of every believer.
Will you join me and consider this month… to recommit to consistent, fervent PRAYER for our Spiritual leaders. God promises to answer knowing we will be praying in agreement to His will in Christ.
Nick Harrison, in his daily prayer guide, Magnificent Prayer, states that "Prayer is our offering to God, as important as the sacrifice of praise." When we come each Sunday morning to Worship in praise, let's come "prayed up"– expectant – faithful in consistent, fervent PRAYER for our leaders and for the Church!
Brenda Socci
Chaplain, Tel Hai Retirement Community