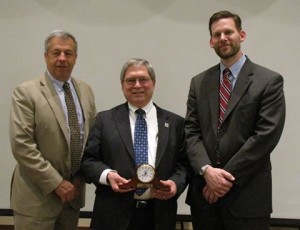 Tel Hai Retirement Community President & CEO, Joseph J. Swartz, was awarded the Alumni Recognition Award by the Cairn University Alumni Association on Thursday, April 16.
Earning his bachelor of science in social work from Philadelphia College of Bible—now Cairn University— Swartz was honored for his fulfillment of the university's mission for students to serve Christ in the church, society and the world as biblically minded, well-educated and professionally competent persons of character.
"I feel honored and humbled to receive the award. Cairn helped me prepare for both life and my life work in senior living through their social work program, biblically integrated education and leadership opportunities," commented Swartz.  "I look back with gratitude for the impact Cairn made in helping me to learn and grown as a person and prepare me for service within society and the church."
Swartz has a storied career of more than 40 years of experience and service in the senior living industry including executive roles held in Pennsylvania, Ohio and Florida. His broad experience includes directing corporate long-range planning, program and financial management, capital expansion projects and fund development.
Tel Hai Retirement Community, an accredited nonprofit continuing care retirement community, has provided high quality and compassionate care since 1956.  The campus is located at 1200 Tel Hai Circle, Honey Brook, PA., three miles east of Route 10 off Beaver Dam Road. For more information or directions, please visit www.telhai.org.
CAPTION: Tel Hai Retirement Community President & CEO Joseph J. Swartz, center, receives the Alumni Recognition Award from Russ Nixon, Senior Vice President of University Advancement (left) and Nate Wambold, Director of Alumni Relations (right) from Cairn University.