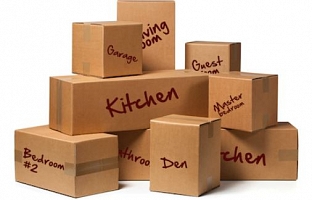 At Tel Hai Retirement Community, we know the 'stress' future residents feel as they plan to downsize their homes and prepare to move into our community.  However, that 'stress' can be greatly relieved or even eliminated during the moving process by proper planning and preparation.  We are here to help!
As the Moving Resources Manager at Tel Hai, it's my privilege and job to assist our future residents by helping them systematically tackle the sometimes overwhelming moving process.  Check out my favorite collection of "Moving Tips with Tina: #1-5."  Check back next month for "Moving Tips with Tina: 6-10!"
Tip 1: HIRE PROFESSIONAL, VETTED MOVERS
It is your moving company that will be doing the heavy lifting on moving day!  Tel Hai can help refer you to a series of reputable movers we recommend that have the skill-set, talent and expertise to perform your move.  They will make sure your move goes according to plan and is on schedule by providing door-to-door service.
Tip 2: CREATE A BUDGET
Help yourself reduce your stress and costs during a move by planning a moving budget.  These expenditures should ensure you can cover all the important costs associated with your move, from truck rentals to purchasing boxes and supplies.  To save money during your move, be sure to compare costs of contractors like disposal services and auction houses for items you wish to dispose of prior to moving.
Tip 3: TAKE YOUR TIME
Plan, plan, plan!  Again, reduce your stress and giving yourself plenty of time to organize a schedule to  complete each item on your task list and collect all the necessary materials you will need for your move.  Tel Hai can assist you in this organization and we have moving checklists available to ensure all your bases are covered!  Also consider taking time to make a full inventory for each packing box to simplify your unpacking.  It's best to pace yourself – don't leave it all to the last minute!
Tip 4: BE FLEXIBLE
It's important to remain flexible during your move.  Sometimes things won't go exactly according to plan, but the Tel Hai team is available to assist you with troubleshooting and finding a resolution.  Consider formulating a 'backup plan' and a list jobs to complete if something gets postponed.  This will allow you to remain productive yet flexible.
Tip 5: CREATE A DOCUMENT BOX
What do to with all that 'really important stuff?'  Have a document box that is clearly labeled and is the new home for all important documents such as passports, wills and insurance papers that is easy to locate and access. Consider creating electronic copies of important documents by scanning and saving them onto a computer.
Do you have a favorite moving tip not shared here?  Comment below and share it!
Tina Cressman
Moving Resources Manager