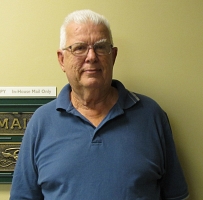 This month's Volunteer Spotlight shines on three who come in from the outside to give their time and energy inside our Physical Therapy Department. We have several resident volunteers who also devote some of their volunteer hours to Physical Therapy; however, this time we want to tell you about the three who come in from the outside on a regular basis.  For their devotion and care, we celebrate our great Physical Therapy volunteers: Bill Rigg, Frank Baer, and Joyce Rock.
Bill Rigg has been volunteering for at least five years following his father's experience with therapy here. He got to see first-hand how the department operates and met the caring staff. He tells us, "The staff adds their very personal touch and works to ensure each resident is matched with the right staff to facilitate a comfortable and cooperative energy in the routine."
The work is sometimes difficult and challenging, but this personality matching seems to work well moving toward complete rehabilitation. Bill explains, "In rehab, some people can be stubborn, especially with the added stress of injury or surgery, but I have seen the staff work wonders even with REALLY STUBORN people!"
Bill loves being helpful and friendly, and, most of all, he likes to chat with people he is helping. He tells us, "One of my favorite things to do is transporting people and listening to their stories as we move between their rooms and PT."
Frank Baer has been a volunteer for about 2 years. He experienced Physical Therapy personally after falling into harm's way in a tractor accident. He also returned as a short-term resident after five-way-heart by-pass surgery. Frank is a man of strong faith in the Lord; he tells us his faith helped him through his difficult times, and now he likes to share his success story with residents as a way of encouraging them to continue with the routines rehab asks them to do.
Joyce Rock is our third "outsider" who came in to Tel Hai Physical Therapy Rehab department to volunteer. She started volunteering in 2001, over 13 years ago! "Initially," she tells us, "I saw volunteering was a way to keep busy after my husband passed away." She heard about us from a few friends, and even knows some of our residents. Joyce explains that she sensed Tel Hai would be a great place to volunteer. Ah…But she adds, "I remember, when I first started here I had to take a written test in order to volunteer in PT; however, the techniques I learned through the questions on those tests continue to this day to help me remember important facts about assisting residents."
Joyce has a pure love of helping the elderly, and she tells us, "I wouldn't dream of volunteering anywhere else!" She truly looks forward to her weekly Wednesday schedule in PT and feels that it's not only the residents that get something out of her efforts. Joyce recognizes that she also benefits. She tries not to get too attached to the residents she is helping; but, she adds, "Sometimes that's difficult because a bond just happens between us and we become friends." She sees residents weekly, and feels honored to be a part of their recovery journey. She says "I especially love seeing residents make positive strides from week to week."
When asked about Frank, Bill, and Joyce, staff tells us: "We love our volunteers because they are so supportive of our staff and truly are a part of our rehab team." They go on to say, "All three volunteers bring rays of sunshine to our Rehab residents as they transport them to and from the department. They are always patient, gentle and caring, and lift the resident's spirits as they offer encouragement during treatments."
Staff explains that additional benefits come from the volunteers' personal experiences. Through their experience with rehabilitation, they prove that the hard work required can and will pay off.
For all three who came inside from the outside to give time, energy, enthusiasm, encouragement, and so very much more to our rehab residents, we thank our Physical Therapy volunteers: Bill Rigg, Frank Baer, and Joyce Rock.