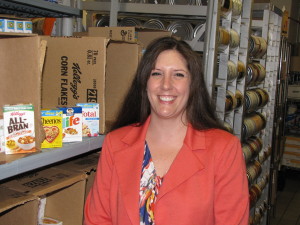 Each March, the Tel Hai retirement community in conjunction with the Academy of Nutrition and Dietetics, encourages consumers to return to the basics of healthy eating by observing National Nutrition Month. Initiated in 1973 as "National Nutrition Week" it became a month-long event in 1980 in response to the public's growing interest in nutrition. This year's theme emphasizes flavorful eating—"Enjoy the Taste of Eating Right" by experimenting with new flavors and flavor combinations. "According to consumer research, taste tops nutrition as the main reason why consumers buy one food over another. The foods we most commonly eat are often those we enjoy the most," according to registered dietitian and Academy spokesperson Joy Dubost. "So make taste a priority when preparing nutritious meals."
As part of this education campaign, Tel Hai's Dining and Nutrition Services Department provides a variety of helpful tips, games, promotional tools and nutrition education resources, all designed to raise awareness of the importance of good nutrition every day. The information provided throughout the month will help everyone make informed food choices that taste good.
Tel Hai is again sponsoring a food drive during the month of March to benefit the Twin Valley Food Pantry.  Tel Hai's dietitian, Sybil Oswalt, reminds us that hunger knows no color, gender or age.  One in six Americans find it difficult physically and financially to access the food and supplies needed to nourish their body and keep them healthy. The Twin Valley Food Pantry has documented service to well over 100 families—an estimated 150 persons. Items needed include sugar, cereal, pasta, rice, canned tuna, peanut butter, canned fruits and vegetables, toilet paper, paper towels, laundry detergent, as well as dish and bar soap. Donations sites will be located on campus in the Garrett Community Center, Chapel Lobby and the Lakeview Personal Care entrance. Questions regarding the food drive can be directed to Sybil Oswalt, RD, CSG, LDN, Tel Hai's Clinical Dietitian at 610-273-9333, extension 2067.
PHOTO: Sybil Oswalt, Tel Hai's Clinical Dietitian, serves as the coordinator for the annual food drive during March—National Nutrition Month.  Donations will benefit the Twin Valley Food Pantry which has been serving over 100 families in the region.