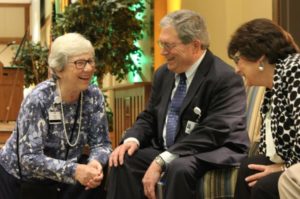 This winter, I've been counting my blessings, one of which is the decision I made eight years ago to move to this beautiful campus. I'm sure that other residents who reside at Tel Hai can relate to them as well.
I feel thankful…
– when I leave the dinner table each night and have not had to shop for food, plan, prepare, cook or wash the dishes.
– when the Ukulele Band is performing for a sing-along and I wonder if I would ever be singing if I lived alone.
– when I sign up for one of our out-of-town getaways or day trips and all the planning has been done for me, the pace is appropriate and the sights are interesting.
– when I hear a group of friends sharing a laugh at dinner and it occurs to me that I am never lonely or alone at meal time.
– when I can feel useful by joining a committee or volunteering in an area of my experience and interest.
– when I am able to attend lectures, church services, nature walks, concerts, movies, swimming, shopping, dancing, gardening, art classes, and many more activities… all without leaving the campus.
– when my privacy is respected when I am in my own home, but I feel that I am among friends when I step out the door.
– when I don't need a car because the pharmacy and grocery store deliver and the Tel Hai shuttle will take me to appointments.
– when my family can relax because they understand that I feel supported and cared for by genuinely interested and responsive staff.
– when I can get my mail, buy stamps and mail packages all without leaving campus.
– when a nurse or social worker is available day or night to respond to any concerns I may have.
– when it snows and I am inside baking cookies for the staff shoveling outside, instead of doing the heavy lifting myself.
For these and many other reasons, I am so grateful and thankful that I live at Tel Hai.
Marian Friese
Tel Hai Retirement Community Resident