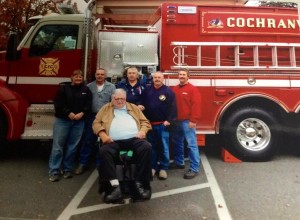 The Cochranville Fire Company is truly a family. One member of that Cochranville family is Richard Stephen 'Murph' Murphy.
As part of Tel Hai's "Wishing Well Program," Murph was recently honored with a visit by 'Bertha,' a now-retired fire truck once used by the Cochranville Fire Company. The "Wishing Well Program" facilitates the granting of wishes for personal resident events or life renewal goals made known by residents, family members and staff through referrals. Murph's wish was made possible through the cooperation of his wife Nancy and the Company.
Murph will tell you— he knows many stories about Bertha and the Cochranville Fire Company. He has been apart of the fire company family since he was born. The fire company was chartered in 1946 when Murph was 5 years old.  As the son of the first fire company president, he truly grew up in the firehouse. Joining the company as soon as he was old enough, he followed in his father's footsteps to become the 4th president. With maturity and quiet wisdom, he later led Cochranville Fire Company as fire chief.
Murph served on the carnival committee and spent many hours in the trailer on a large lazy boy recliner managing the carnival. At the end of the night, carnival workers would come to the trailer to see if the committee had time to help them and they always did.
Murph was instrumental in retro fitting the compartments of old 27-5, affectionately known as Bertha, to make them deeper to carry more tools. Murph was also responsible for creating the hose wheel cart that is used when packing 5-inch hose. He made the design, had his
block plant employees build it, and it is still used today. He was instrumental in putting in the dry hydrant which started as a sketching of idea on a bar napkin while brainstorming ideas with several other firefighters.
Challenging nights for Chief Murphy included the night 3 barns and 2 houses were on fire all at once. Also, a tire fire once burned for 7 days and involved 15 companies with 15 additional companies on standby.
The respect neighboring companies had for chief Murphy was evident. In fact, nurturing relationships was especially important to Murph. He stressed the need of working together and formed longstanding relationships with neighboring companies that still resonates today. His line officers knew he had their backs and they were sure to have his.
Murph nurtured and gave wisdom to anyone that would listen. However, it's not like his listeners had a choice… if Murph had something to say, you were going to listen. He often let his line members know when he didn't approve of their behavior, even outside of the firehouse. His nickname of "Big" fits him as he is a gentle giant with a big heart.
Throughout his leadership as head of the Cochranville Fire Company, he has always been the man that was there to help anyone and everyone. No matter how big or small, whether to lend a hand or a listening ear, or just a shoulder to lean on, Murph never turned down anyone that needed his help. He has left a giant legacy for all to carry on and is very much loved by those that continue on since his retirement.
Murph moved to Tel Hai Retirement Community in February 2013 from his home in Cohranville, and resides in Meadows Health Care Center.
Tel Hai Retirement Community, an accredited nonprofit continuing care retirement community, has provided high quality and compassionate care since 1956. The campus is located at 1200 Tel Hai Circle, Honey Brook, PA., three miles east of Route 10 off Beaver Dam Road. For more information or directions, please visit www.telhai.org.