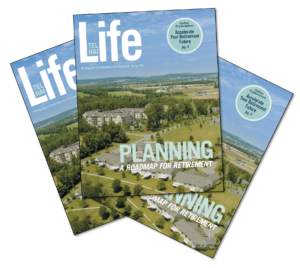 Interested in knowing more about the Tel Hai lifestyle and how you can live life to the fullest at the 'Hill of Life?' Subscribe today to our complimentary LIFE Magazine!
From captivating narratives of resident adventures to important news on advancements in senior care, we dig deep into the stories that make our community whole.
For specific questions, please contact the Marketing & Communications Department directly at (484) 796-4262 or email info@telhai.org.
CONNECT WITH US TODAY!
Complete the form below to subscribe to
LIFE MAGAZINE so you don't miss a thing!
---
Life Magazine Subscription Form
---
(To opt-out of receiving Tel Hai Life or for address changes, please direct to Tel Hai Retirement Community, Attn: Marketing, P.O. Box 190, Honey Brook, PA 19344, call (484) 796-4262 or e-mail info@telhai.org. Tel Hai Life is published by Tel Hai Retirement Community. The views and opinions expressed in Tel Hai Life do not necessarily represent the official policies of Tel Hai Retirement Community, nor are they always the opinions of the editor.  Additionally, corresponding comments are the personal opinions of the original authors and do not represent the official policies of Tel Hai Retirement Community.)