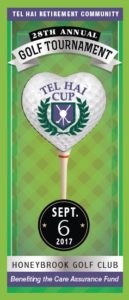 Save-the-date for Tel Hai Retirement Community's 28th annual 'Tel Hai Cup' golf tournament on Wednesday, September 6, 2017 at the Honeybrook Golf Club.
Plan to join residents, friends, team members, business parters and volunteers for another beautiful day on the course!
Through your support of the Tel Hai Cup, all funds raised support the Care Assurance Fund.  This fund was established for residents whose financial resources fall short of the cost of the services that they receive. Together, we are closer to reaching our annual goal of 1,965 Days of Care in 2017!
View our 2017 Tel Hai Cup Sponsors Here!
Download the 2017 Tel Hai Cup Sponsorship Opportunities & Registration Brochure Here!