Garden View in Meadows Health Care Center is our therapy neighborhood focusing on a personal and individualized approach to one's recovery. We believe in building relationships, listening to each individual's needs and respecting their choices.
Services Include:
Pre-operative planning and program consultation
Physical, occupational and speech therapy as prescribed
Fully equipped therapy gym (therapeutic modalities including ultrasound, electrical stimulation and diathermy)
Personalized pain management program
Individual aquatic programs with our licensed therapists, as appropriate
Family and caregiver training and education by our therapists available evenings and weekends by appointment
Ongoing education and training provided for self-management of your unique medical needs
Dedicated social worker support
Customized discharge planning initiated following therapy assessments and based on resident/family goals
"Step Up" home evaluations to ensure a successful discharge
Opportunity to continue the relationship you built with your therapist on an out-patient basis (upon insurance verification)
Fees and Floorplans:
The cost to live at Garden View varies according to the floor plan selected, therapy needs required and any additional amenities selected.
Free WiFi internet availability is provided in Garden View. For specific pricing information for accommodations and services that meet your individual needs, please call us at 610-273-9333 or click here to send an email using our contact form. We look forward to discussing the many options available to you.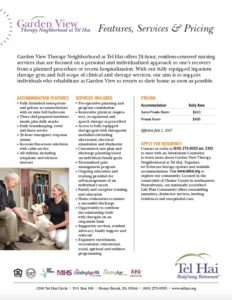 These fees are effective as of July 1, 2017 and are subject to change with a 30-day notice.