As an RN, you work hard. 
It's time to drop that long commute and work locally.
Recapture those hours for things you love…
more time for family, friends and relaxation!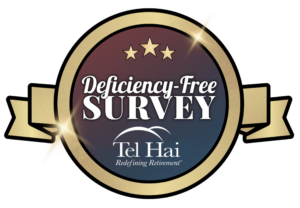 Are you ready for a change?  Are you ready for an employer that recognizes and rewards you?
At Tel Hai Retirement Community, our RN's love being part of valued team, with the pay to match!  Plus, we just increased our shift-diff for evening shift to an additional $4 per hour!
By joining our CMS 5-star rated organization, you'll work with a team that is committed to providing quality care to residents who will become like family.  You'll LOVE our fantastic perks and benefits!
What RN positions are available?
What are the perks?
$1,000 Sign-On-Bonus and Quarterly Perfect Attendance Bonuses
Orientation Schedules & Onboarding Timelines that will meet your individual needs
Tuition Reimbursement & Scholarship Opportunities for You & Your Dependents
Generous Paid Time Off, On-Site Child Care & Discounted Meals
Medical, Dental, Life, Disability Benefits & Retirement Savings
FREE On-Site Fitness & Aquatic Centers
Daily Pay available
---
 Ready to get started?  Complete the quick form below!
---
Tel Hai Retirement Community is an Equal Opportunity Employer. We're located in Chester County in Honey Brook, PA. For specific questions, please contact Human Resources directly at 610-273-4611 or email hr@telhai.org
(COVID-19 Vaccination Statement: As of November 30, 2021, Tel Hai Retirement Community requires all employees to be fully vaccinated against COVID-19, unless he/she has an approved medical or religious exception.)