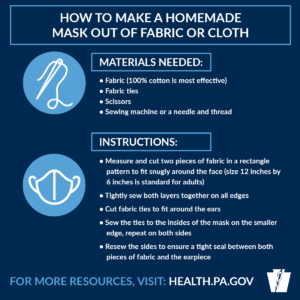 Tel Hai Retirement Community is now receiving donations of ear-loop handmade fabric masks, medical-grade masks, surgical masks, N95's (particulate respirators) and isolation gowns.
At a time when medical supplies are running low nationwide, we appreciate your contributions. Currently, Tel Hai has sufficient supplies to meet our current demand, but we are preparing for future needs.
Resources are listed below of how to make your own mask or sew masks for others, courtesy of the PA Department of Health.
Greater Community Members, Family & Friends:
Donations can be mailed to Tel Hai at the address listed below. Additionally, we are accepting deliveries on our campus at the Infection Prevention Trailer, located at our East Entrance at Tel Hai Circle. Please enter the community, and you will be directed to stop and remain in your vehicle at the Infection Prevention Trailer. Please communicate to the Team Member at the trailer that you are delivering a donation. We kindly ask that you remain in your vehicle and exit the community after the donation is accepted.
Mail Donations To:
Tel Hai Retirement Community
Attn: Toni Balla, Purchasing
1200 Tel Hai Circle
PO Box 190
Honey Brook, PA 19344
Tel Hai Residents:
Donations from residents can be placed in their mail bag with outgoing mail/packages for pickup. Please do not leave campus or make a special trip to purchase these items. If you have these in your home already or can make fabric masks, your donations are appreciated.
Questions:
For additional questions or information, please contact Toni Balla, Director of Purchasing, at 610-273-9333 ext. 2132 or tballa@telhai.org
Mask Resources & Sewing Guide:
PA DOH: Homemade Mask Guidance
PA DOH: Understanding the Difference- Masks