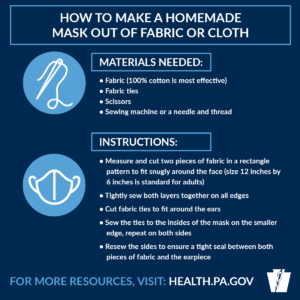 Tel Hai Retirement Community is now receiving donations of machine-washable, ear-loop fabric masks.
Currently, Tel Hai has sufficient supplies to meet our current demand for team members, but we are preparing for future needs related to resident-use within our Meadows Health Care Center.
Resources are listed below of how to sew masks for others, courtesy of the PA Department of Health.
Greater Community Members, Family & Friends:
Donations can be mailed to Tel Hai at the address listed below. Additionally, we are accepting deliveries at our Meadows Health Care Center/Administrative Entrance. Masks required on campus when dropping off donations.  Masks can also be mailed to:
Tel Hai Retirement Community
Attn: Toni Balla, Purchasing
1200 Tel Hai Circle
PO Box 190
Honey Brook, PA 19344
Tel Hai Residents:
Donations from residents can be placed in the interdepartmental, on-campus mail labeled for "Toni Balla- Purchasing."
Questions:
For additional questions or information, please contact Toni Balla, Director of Purchasing, at 610-273-9333 ext. 2132 or tballa@telhai.org
Mask Resources & Sewing Guide:
PA DOH: Understanding the Difference- Masks