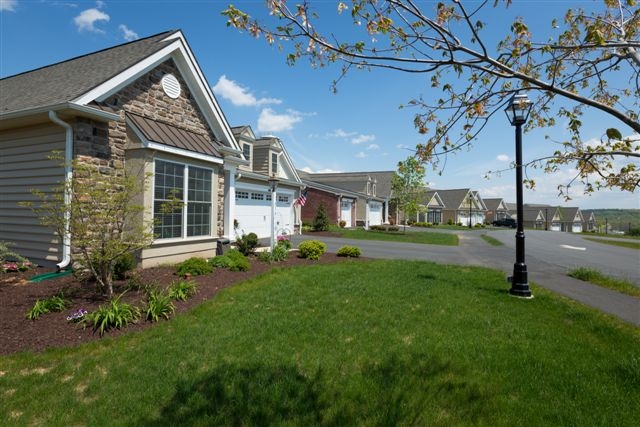 Cottage Living at Tel Hai
All cottage homes at Tel Hai come complete with a well-equipped kitchen, laundry, ample closets, patio, garage, and emergency call system. You'll also benefit from an excellent package of services that include building maintenance, lawn and shrubbery care, trash removal, snow removal, and security. We also cover insurance on the property. You only need to carry renter's insurance on your personal property. With your convenient location on campus, you can easily access the community shuttle or enjoy a pleasant walk to take advantage of Tel Hai's multitude of activities and facilities.
In addition to your monthly fee you will receive separate billing for your electric heating and cooling; charges for propane will be shown on your monthly statement, if applicable. We also offer optional services for your convenience for an additional fee including, cable television, high-speed internet access, telephone, personalized sedan service for medical appointments, scheduled housekeeping, and home care services. You can also choose additional flexible "dining dollars" for use in our café or dining room, as well as for catering and takeout.
Explore life at Tel Hai today and attend one of our upcoming 'Taste of Tel Hai' luncheon events! Join us in the Welcome Center for a tour of the Pearl model apartment, followed by an informational program and a delicious lunch.
You'll find an enticing array of fine cottage homes to choose from ranging in size from 936 to over 1,900 square feet when you make Tel Hai your new address. You can add custom touches to your cottage that reflects your style.
Standard Custom Cottage 936 square feet
Large Custom Cottage 1200 square feet
Large Custom Cottage 1328 square feet
Large Custom Cottage 1495 square feet
Completed in 2010, the Cedar Ridge neighborhood added 23 clustered cottages with fresh, open floor plans and pastoral views of surrounding Amish farms. Completed in early 2013 our Woods Edge neighborhood, located in the northwestern corner of our property, adds 55 new cottages and a fourth model—the Delaware. Residents claim—no matter where they live on campus—that they have the very best location.
You can review the floor plans below. Begin an exciting new chapter as a member of the Tel Hai family. Your active, worry-free lifestyle awaits.
The Delaware 1408 square feet
The Berkshire 1582 square feet
The Lancaster 1733 square feet
The Chester 1890 square feet
Are you interested in learning more about life at Tel Hai?  CONTACT US to meet with our Retirement Counselor today! Be our guest, have your questions answered and start planning your next chapter in country comfort with maintenance-free living. Tel Hai offers a variety of residential options and a calendar full of activities and varied pursuits…a celebration of well-being.