The cost to live at Meadows Health Care Center varies according to the floor plan selected and any additional amenities selected. There is a fee of $250 due with the application for residency.
Meadows Health Care Center
Semi-Private Accommodation- $360 daily room rate
Private Accommodation- $387 daily room rate
Large Private Accommodation- $395 daily room rate
Charges for Amenities (Additional charges may include the following items)
Phone Service: Monthly charge, plus long distance calls
Hairdressing: Based on services provided
Medical Supplies: Based on items required
Medications: Billed directly by pharmacy (most prescription plans honored)
Free WiFi internet availability is provided in Meadows Health Care Center. For specific pricing information for accommodations and services that meet your individual needs, please call us at 610-273-9333 or click here to send an email using our contact form. We look forward to discussing the many options available to you.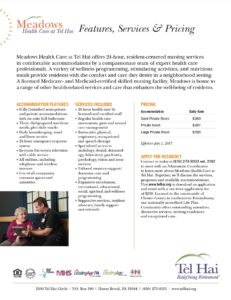 These fees are effective as of July 1, 2017 and are subject to change with a 30-day notice.