The cost to live at Lakeview Personal Care varies according to the floor plan selected, number of people, and level of personal care required. There is a fee of $250 due with the application for residency and a $3,000 security deposit when accommodations are reserved. The fees listed are for single occupancy.
For specific pricing information for accommodations and services that meet your individual needs, please call us at 610-273-9333 or click here to send an email using our contact form. We look forward to discussing the many options available to you.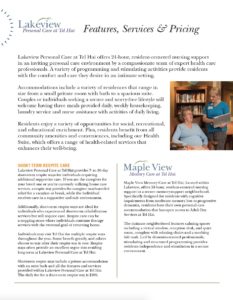 This slideshow requires JavaScript.
These fees are effective as of July 1, 2017 and are subject to change with a 30-day notice.