Meet Tel Hai Summer Youth Volunteer Nevaeh Ritsick! Nevaeh is a member of HOSA, for future health professionals. HOSA is an international student organization recognized by the U.S. Department of Education and the Health Science Education (HSE) to promote career opportunities in the health care industry and to enhance the delivery of quality health care to all people.
During the past school year, Nevaeh entered the Pennsylvania state competition in secondary speaking skills where she wrote a speech about why she's choosing to pursue a career in health services. During her speech, she spoke about her experience as a Tel Hai Summer Youth Volunteer. She won the Pennsylvania competition and was sent to the HOSA National Leadership Conference in Dallas, Texas.  There, she competed against 13 other competitors and won the National Title!
Below are a few excerpts from her speech…
---
Abraham Lincoln once said, "The best way to predict your future is to create it." I like to think of my future as a book. When I graduate, I will be ready to create chapters full of service to others and provide hope to those in need. The skills I gain through HOSA-Future Health Professionals and Health Career Pathways will help me create a future in healthcare that I will enjoy as well as where I can serve others.
I have worked with children and the elderly, and I learned to be extra kind and nice to everyone.
For the past two summers I have had the privilege of working at Tel Hai Retirement Community. I worked in , which is similar to an Alzheimer's unit. Working with those individuals made me a stronger person, both physically and mentally strong.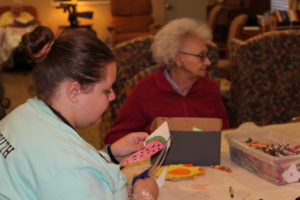 I learned to be mentally strong. I witnessed the staff working very hard. I realized, for my future, the world needs more people working in the healthcare field. I experienced good days and bad days. A major loss in my work family gave me a different set of medical experiences. I witnessed two of my favorite residents die. They had both been with me for almost two years. We grew very close but in the end, the Alzheimer's just took over. But they both received top notch, round the clock, compassionate care. Even though it was sad and tough, I came out of it committed to health care.
As a result of my Tel Hai experience, I chose to be in the Health Career Pathways program. This is a great first step to creating a path to my future. My career path looks bright because I am creating a future I love.