Happy Fall! Unfortunately…. we are now getting into flu season.  We wanted to break down two important issues to remember as the days get shorter and colder!
The Flu: Influenza, commonly known as the "flu," is an extremely contagious respiratory illness caused by influenza A or B viruses. Flu appears most frequently in winter and early spring. The flu virus attacks the body by spreading through the upper and/or lower respiratory tract.  The common cold and flu are both contagious viral infections of the respiratory tract. Although the symptoms can be similar, flu is much worse. A cold may drag you down a bit, but the flu can make you shudder at the very thought of getting out of bed.
Flu Facts:
You cannot get the flu from the flu vaccine. The viruses are killed or weakened so they cannot replicate.
The flu vaccine takes approximately two weeks to generate protective antibodies, so for the two weeks after receiving your vaccine, practice good health habits to avoid getting the flu.
Side effects from your vaccine are not actual flu infection but a response from your immune system to the flu germs in the vaccine. Side effects are an initial response from your immune system to the killed or weakened flu germs and are generally mild and resolve in 1-3 days. Taking pain relievers will not interfere with the vaccine and may be taken for comfort if necessary.
Each year, the flu vaccine protects against different flu viruses. A new immunization is required each year.
 Flu Prevention:
The single most effective protection for the flu is getting the flu vaccine.
Handwashing is an important step that helps prevent spreading the flu. Wash your hands often with soap and water, especially after you cough or sneeze. When soap and water are not readily available. Hand sanitizer should be used.
Cover your nose and mouth with a tissue when you cough or sneeze. Throw the tissue in the trash after you use it. If you don't have a tissue, sneeze or cough into your sleeve.
Avoid contact with sick people.
If you are sick, stay home for seven days after your symptoms begin or until you have been symptom-free for 24 hours, whichever is longer. This is to keep from infecting others and spreading the virus further.
Follow public health advice regarding illness activity in the area, avoiding crowds and other social distancing measures.
Further information can be found through the Center for Disease Control (CDC) or the Chester County Health Department.
If you are a residential living resident or team member at Tel Hai, remember to contact the Residential Living Health Services Coordinator, Sara Snyder, at ssnyder@telhai.org or 610-273-9333 ext. 2517 if you are experiencing symptoms including fever, chills, cough, sore throat, runny/stuffy nose, muscle/body aches, headaches, and fatigue.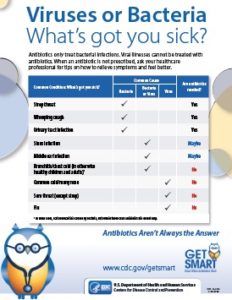 Virus or Bacteria? This is a topic that causes a lot of confusion… but it doesn't have to!  Bacteria are single-celled microorganisms that thrive in many different types of environments. Some varieties live in extremes of cold or heat. Others make their home in people's intestines, where they help digest food. Most bacteria cause no harm to people, but there are exceptions. Viruses are even smaller than bacteria and require living hosts — such as people, plants or animals — to multiply. When a virus enters your body, it invades some of your cells and takes over the cell machinery, redirecting it to produce the virus.
Are Antibiotics Needed? Antibiotics only treat bacterial infections. Viral illnesses cannot be treated with antibiotics. When an antibiotic is not prescribed, ask your healthcare professional for tips on how to relieve symptoms and feel better.
Janet Kretchmer, RN
Infection Preventionist, Staff Education
Tel Hai Retirement Community