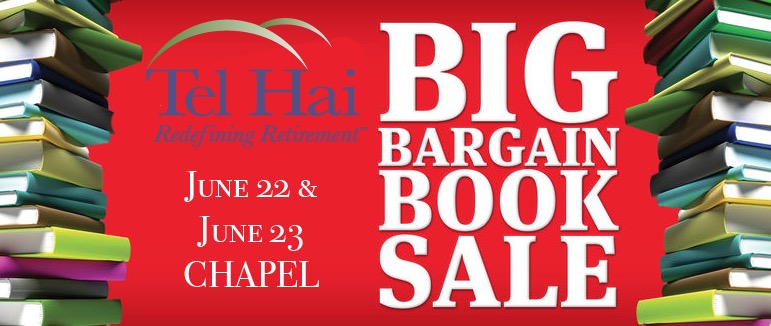 Tel Hai Retirement Community welcomes the public to participate in their annual bargain book sale scheduled for Thursday, June 22 (9 a.m. – 8 p.m.) and Friday, June 23 (9 a.m. – 11 a.m.) in the community's auditorium/chapel located on Tel Hai's campus at 1200 Tel Hai Circle in Honey Brook, Pa.
Volunteers and members of the Tel Hai Library Committee have collected book donations from residents, staff and community neighbors that will be offered to the general public at discounted rates. Prices range from fifty cents to $3.00.
Gently used hardcover and paperback books in good condition will be available sorted by topic. Items for sale include popular fiction, nonfiction, biographies, mysteries, travel, gardening, children's books, cook books, VHS tapes, CD's, DVD's and much more!
Past sales have made it possible for the Tel Hai Library Committee to expand the stacks, enhance the library's variety of materials offered, and added a magnification center for residents with visual impairments.
Tel Hai is located 3 short miles east of Route 10 off Beaver Dam Road. Follow Beaver Dam Road to the campus of Tel Hai, then turn onto Tel Hai Circle.  Tel Hai Retirement Community, an accredited nonprofit Life Plan Community, has provided compassionate care since 1956. For more information or directions, please visit www.telhai.org.
__________________________________
Founded in 1956, Tel Hai Retirement Community is a non-profit, 501(c)3 Life Plan Community (formerly a continuing care retirement community) located in the rolling countryside of Chester County in Honey Brook Township. Tel Hai offers the full-continuum of aging services including residential living, personal care, personal care memory support, health care, , home care services and therapy services. Tel Hai is motivated by Christ's love for all, and our covenant is to provide a vibrant caring community that enhances the lives of those served, including more than 850 residents and 500 team members. Tel Hai is nationally accredited by the independent Commission on Accreditation of Rehabilitation Facilities (CARF).