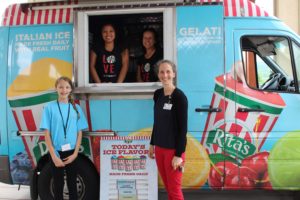 Every child hopes their summer will be adventurous, fun filled, and something to brag about. And that is exactly what my summer has been like as a Summer Youth Volunteer!
As a Summer Volunteer everyday is different and special. You are able to work in many areas and meet many residents. It is truly amazing. I love volunteering, it makes me feel great knowing I am helping out my community!
I have worked in many departments but my two favorite are Adult Day Services and Child Day Care. The residents in Adult Day Services are extremely sweet and I love to talk with them. They all have unique stories. In Child Day Care, the children bring a smile to my face. They are incredibly amazing to work with.
I love this "job" so much, and have told all my friends about it, and some might join next summer! Overall this opportunity is amazing and I'm grateful to have it. Tel Hai truly is the best place!
Greta Schroeder
Tel Hai Summer Youth Volunteer