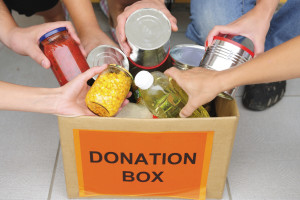 Tel Hai Retirement Community invites the community to participate in the 'Annual Tel Hai Food Drive' now through March 31, 2016, benefiting the Twin Valley Food Pantry in Morgantown, Pa. and the Honey Brook Food Pantry in Honey Brook, Pa.
In conjunction with National Nutrition Month, Tel Hai is requesting the donation of non-perishable food items and supplies including canned tuna, peanut butter, cereals, pasta, rice, canned fruits & vegetables, laundry detergent, dish soap, bar soap, paper towels and toilet paper.  Tel Hai is also accepting monetary donations of any size for the Honey Brook Food Pantry.
Non-perishable food and supply donations can be dropped off at the Garrett Community Center, on the campus of Tel Hai, located at 1200 Tel Hai Circle, Honey Brook, Pa.  Additionally, check donations can be made payable to the Honey Brook Food Pantry, of which Volunteer Services at Tel Hai will collect on their behalf.
One in six Americans find it difficult to physically and financially access foods and supplies that may nourish their body and keep them healthy.   Food insecurity is a reality for our neighbors in the community in which we live and work. Hunger is not a short-term problem; lack of nutrition can create long-term problems from diabetes to heart disease.
Join Tel Hai today and help families in the Chester County community.
Tel Hai Retirement Community, an accredited nonprofit continuing care retirement community, has provided high quality and compassionate care since 1956. The campus is located at 1200 Tel Hai Circle, Honey Brook, PA., three miles east of Route 10 off Beaver Dam Road. For more information or directions, please visit www.telhai.org.
---
Founded in 1956, Tel Hai Retirement Community is a non-profit, 501(c)3 continuing care retirement community located in the rolling countryside of Chester County in Honey Brook Township. Tel Hai offers the full-continuum of aging services including residential living, personal care, skilled nursing care, , home care and rehabilitation services. Tel Hai is dedicated to providing high quality care and services to enhance personal dignity, autonomy and lifelong enrichment as a demonstration of Christ's love for all persons, including more than 800 residents and 500 staff. Tel Hai is nationally accredited by the independent Commission on Accreditation of Rehabilitation Facilities-Continuing Care Accreditation Commission (CARF-CCAC.)