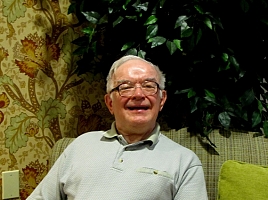 A blessing among us, George Young is our volunteer spotlight! We highlight George for many reasons, but, as we write his story, we see a loving theme rise to embellish each story about his volunteering here at Tel Hai. George is a blessing to all of us.
Pastor Tim Herr (Vice President, Pastoral Care) says of George, "George quietly goes about making a difference for people each day. Our department recognizes what George does and appreciates him for his very practical contributions."
George moved to Tel Hai in 2007. He tells us he moved here because he knew he and his wife would need personal care assistance someday. He has always lived in Lakeview. George and his wife had visited friends here a few times, and he thought it was very nice. His friend and POA at the time was Toby Connell, and George thinks he must've pulled some strings to get them in here. George never thought they would qualify so when Toby said you can come to Tel Hai George said, "You gotta be crazy!"
Before moving here, George was a custodian in Octorara Area School District for 37 years. He retired in 2007 right before coming to live at Tel Hai. He grew up in the Scranton area but had family ties to Parkesburg, where his family later moved after he graduated from High School. In his free time, he enjoys sports including baseball, basketball, and football. He also enjoys history. He likes reading biographies and about history – especially about the Civil War.
George always helped his wife go to chapel. In fact, he adds "I officially started volunteering following my wife's passing." He enjoys helping residents go to and from worship in the chapel. He says, "I just enjoy helping people. It gets his mind off of me and helps keep me busy."
We asked about the areas in which he volunteers, and he replied, "lots." Every Monday afternoon and all day Wednesday, he escorts folks to the salon. In the salon, he works with Jackie and Mary from Salon PS. He said he likes working with them very much. They are easy to work for, and he really enjoys their company. Jackie and Mary add, "George is the greatest! He's always got a smile on his face and we just love his sense of humor. They've never seen a more dedicated volunteer – he stays late through his lunch to take people back to their rooms, he's so attentive, he knows all of their names. He goes above and beyond a normal volunteer." Mary believes he should always get a free haircut in the salon! All around, they both love George and feel he's such a great person!
On many other days he makes friendly visits. He visits people in the healthcare center who were originally in Lakeview, people from his church and the larger community that he knows. In fact, George is a friendly visitor extraordinaire to several men in the health care center. He helps two men out of doors to enjoy fresh air almost every day. One man requests to be out for 30 minutes a day, and the other does not stay nearly as long. George realizes this is a morale booster for the residents, and he likes to help staff meet these needs. Linda Jacobs (Unit Coordinator, Meadow Ridge) adds, "Meadow Ridge loves George Young. He is always very friendly; he helps us transport our residents back and forth to the salon. He has friendly visits with our residents and takes residents outside and to other functions. I don't know what I would do without him. He makes our job so much easier. God Bless George Young."
He also helps residents get to weekly Bible discussion in the Tel Haven social room, and setup and take down the Saturday movie equipment in Lakeview a few times a month. George likes being able to help others. He is a good Christian and follows what Christ said "I have come not to be served, but to serve others." George believes that if you're able, you should serve others and that's what he tries to do as often as possible.
Barb Hartung (Wellness Supervisor) tells us that George is always there to help anyone that needs help. He enjoys his time volunteering. He also volunteers as a Lakeview Resident Council Member. On the council he always listens respectfully to everyone and advocates for residents that come to him with issues.
Michelle Turner (Lakeview Social Worker) adds, "George always has a smile on his face and is willing to help another resident at the drop of a hat. He is a true gentleman." Jodie Rice (Service Facilitator) says, "George is one of a kind. He always has a kind hello for everyone he passes and is always willing to help his fellow residents with anything he can! He is a very kind and thoughtful person who always puts others first."
Cindy Dallara (Lakeview Administrator) tells us, "George is friendly to everyone that he meets during his travels. He always seems upbeat and truly concerned for others, no matter what else might be going on. He is a great guy." Cherissa Blank (Activities assistant) adds, "Not only is George a faithful volunteer who you know you can always count on to show up for his scheduled position, he's always there with a smile and a sense of humor! Moreover, George is always looking for ways to be helpful and pitch in for any impromptu needs. He is such a blessing!"
For being our very own blessing in disguise, and for putting others first, and for serving God and others with humor and sunshine, we thank George Young and we highlight him in our volunteer spotlight.