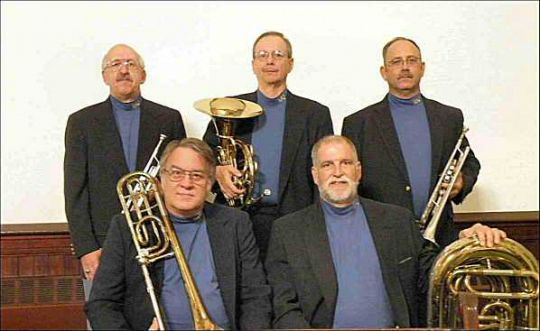 Tel Hai Retirement Community invites the public to a 'Tel Hai Concert Series' performance by the Keystone Brass Quintet on Tuesday, June 16 at 7:30 PM in the community's chapel located off Beaver Dam Road in Honey Brook Township.  Admission to the event is free and open to the public.
The Keystone Brass Quintet was founded in the fall of 1976 and presented its first public concert in the spring of 1977 on the campus of York College. More than 300 performances and 35 years later, three of the five founding members remain with the ensemble. The cohesive nature of the ensemble's playing and richness of their sound is due in large part to the high level of musicianship of the unchanging personnel.
Several members of the group arrange and compose for the quintet's extensive repertoire. This talented group of musicians includes: Doug Winemiller and Peter Johnston on trumpet, Stephen Burg on French horn, Michael Dietz on trombone, and James Biddle on the tuba.
The group consists of trained musicians who have been music educators and free-lance performers throughout the region. Winemiller, a graduate of Lebanon Valley College, taught music in the South Eastern School District. Johnston graduated from Millersville University and is a music instructor for the Gettysburg School District. Biddle, a graduate of Westminster College, is a school band director at York Suburban. Burg is principal horn with the York Symphony Orchestra and performs with other free-lance groups throughout Central Pennsylvania. Dietz, a graduate of the Eastman School of Music had been principal trombone with York and Harrisburg Symphonies and is an active recitalist in the region.
Tel Hai Retirement Community, an accredited nonprofit continuing care retirement community, has provided high quality and compassionate care since 1956.  The campus is located at 1200 Tel Hai Circle, Honey Brook, PA., three miles east of Route 10 off Beaver Dam Road. For more information or directions, please visitwww.telhai.org.