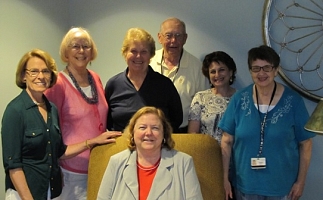 "Do your eyes light up when they come in to the room? Toni Morrison The Bluest Eye
You know you are special if you can make somebody's eyes light up. That's the goal of our Adult Day Services volunteers. They aim to make some eyes light up, and, when they can see that happen, they know they have done a satisfying job that day. This is the theme we heard over and over again as we spoke with the Adult Day volunteers. We like to see their eyes light up. We are blessed to have several volunteers who do just that. They come into Adult Day work to put the gleam and spark in the eyes of our folks spending their days in Adult Day.
For giving their time and energy to Adult Day Services and for bringing sunshine to the lives of our Adult Day residents and for helping to light up their eyes, we thank Mary Jane Muthard, Janet Brinton, Robin Sheldon, Mary Clancy, Naomi Parke, Lonita Englehart, Marketing Stoltzfus, and we highlight them in our Volunteer spotlight.
    Mary Jane Muthard has been a Tel Hai resident for five and one half years. When asked why she likes this kind of volunteer work, she replies, "I volunteer every Monday in Adult Day, and I get to see the joy in their faces, especially when the Ukulele band comes in." She goes on to tell us that these folks really look forward to their Monday morning musical interlude, and, as soon as the ukulele players walk in, she watches their faces light up and they say, "Oh! The band is here, here we go!" Whether they sing along or just tap their feet along with the rhythm of the music, they really enjoy the ukulele band.
Originally from the Oley Valley area, Mary Jane lived in Reading, PA with her husband, Rod, where she was a homemaker and reared their two children. Drawn to a life of volunteering, she tells us she learned from her mother to make a difference. Mary Jane tells us her mother used to say, "If you see a need, you better fill that need. It's just what you do!" In fact, Mary Jane adds, I really don't know anything other than volunteering." Mary Jane has always been a very busy volunteer. Before Tel Hai, she volunteered for many years by coordinating her Friendship Bible study, and, she adds with a smile, "Ironically enough, that Bible study program was called 'StoneCroft'."
Mary Jane includes several other volunteer opportunities in addition to the Adult Day services. She volunteers at the Garrett Community Center reception desk, in the mailroom, and she is a Master Gardener and applies her specialized skills where needed to improve our gardens. Gardening is one of her passions and she loves the work she is doing in the flower gardens around Tel Hai. When asked what she likes best about volunteering, she tell us, "I like to engage our friends in conversation, and, when I see their eyes to light up, I know I have made a difference." That's what it's really all about. While volunteering in Adult Day Mary Jane helps with the lunchtime meal, she sets up the tables, serves the meal, and then cleans up fter everyone has finished their lunch. She tells us, she finds staff to be really "neat" people with the heart for this kind of work.
    Janet Brinton heard about our Adult Day at her church, and when folks told her we needed volunteers to help serve there. Janet stepped right up, and she has been volunteering here since 1994, even before she became a resident. She tells us, she contacted the Volunteer office and began helping where needed; even before Tammy came here. Before living in Honey Brook, Janet grew up on a dairy farm in West Chester. She moved to Tel Hai in 2005. She had a career in management as she managed a retail store in Morgantown. Following this, she became a Pharmacy technician for a few years, and then she worked at DuPont. Ready for a change and less responsibilities, Janet started volunteering so she could give back and return some of the many blessings she had enjoyed. She started volunteering at Tel Hai, Brandywine hospital, Hickory House, at the soup kitchen in Honey Brook, and for Meals on Wheels; but, she adds, she felt a great connection to Tel Hai, and she continues to volunteer in many areas here.
In addition to Adult Day, she can be found working at our Re-sale Shop, Garrett Community Center reception desk, and for meals on wheels. She is also part of the Tel Hai Welcome Committee for Tel Haven. When she was doing more driving, she drove the shuttle. She has been a monitor at the pool and has also helped in the gift shop. Having served three terms on resident council, Janet has remained a very busy lady working to bring smiles to every face she sees and a spark to the eyes of the folks she helps. She tells us, she liked her task overseeing the resale shop, which she did for close to ten years. You can find Janet in Adult Day every Friday, and, she adds, "I get more reward in Adult Day working with people. I have a good feeling when I leave there. I get to play games, color, play checkers; but they win all the time!" The staff in Adult day just love Janet, in fact, they call her "Aunt Janet." Staff tells us, "Janet is our 'go-to' person if icy or snowy conditions make it difficult for us to make it in on time."
    Robin Sheldon comes to our Adult Day from the outside community. Originally from New York and New England, Robin tells us she has lived in this area for about twenty years. She has balanced her volunteer work with parenting and maintaining her family home for herself and her husband in addition to her career working part-time for American Greeting Cards. Robin has been volunteering here for about three years, but she was also a volunteer at her children's school and still volunteers at church in the nursery and in the kitchen.
She started volunteering at Tel Hai because her mother in law lives here. She wanted to volunteer because that is just who she is, and by volunteering here at Tel Hai, she reasoned, she could her mother in law and serve the community at the same time. After starting her volunteer work here, she felt the Lord told her this is where she should be. Robin grew up with great role models: her parents. She says volunteering is just something that comes naturally to her, but gives credit to her Lord and Savior for giving her the spirit of love and a command to share that love with others.
Robin can be found in Adult Day almost any Tuesday. She tells us she like this work because "it's good to be a friend and smile and to talk with the residents." In addition, she adds, "I like to do all the fun extra things like walking with the residents around the community, playing games – all the stuff that staff would love to do but they don't have the extra time every day; and I like to be a little bit of sunshine in their day because who knows if I will be in their shoes one day."
    Mary Clancy is another Tel Hai volunteer who happens to live in the outside community. She also volunteers in Adult Day Services. Mary grew up in Philadelphia and then moved into Saint Mary's. She's on the wait list for a Tel Haven apartment. Mary had a career managing a dental practice, and she tells us she really loved the work, especially pediatric side of it. We have benefited from her volunteering for about three years. When asked why she volunteers, she tells us she likes to keep busy. She introduced herself to our volunteer office, and just sat back and waited for the call to duty. The call came and she came to answer that call. She tells us our Adult Day is "a loving, caring, gentle place with a loving outlook on the journey of life. Everyone is always nice to one another."
Mary can be found in Adult Day almost every week. She says of Adult Day, "These residents are beautiful people, and I'm glad to have even the tiniest impact on their lives. My favorite part is talking to everyone. I even like to listen to their troubles and try to help them see the positive side of every situation." Staff tells us that Mary works really well with the us, and that she loves talking with the residents. She forms relationships with many residents, and she tries to include as many people when doing an activity such as Zumba or puzzles or games. Mary likes to help and pitch in wherever needed to help pick up the slack and help with dishes, clean up kitchen, or serve the meals.
    Naomi Parke has been a Tel Hai resident since September 2014. She worked for 17 years as a secretary for BCM International Missionary in Camp Sankanac. Originally from Lancaster, Naomi moved to Downingtown after marrying her husband, Tom. She moved from Downingtown to Bowmansville in 2000, and she lived there until she moved to Tel Hai. Naomi tells us she enjoyed a little break from her volunteer work while packing and preparing for her move here to Tel Hai. They sold their house a little faster than they had expected, and she needed the time to pack up. She was sad to stop volunteering but knew once they lived here it would be available to her, and, once settled in, she started volunteering again and has been at it for about two years.
Spreading her sunshine to the outside community, Naomi has also been a volunteer at a local church in Bowmansville for "Release Time" with the children, which was a time when youth could come to the church for an hour of bible study after school. She really enjoys volunteering, and she especially loves to help women and children. See something that has to be done, and Naomi is happy to help! Naomi can be found in Adult Day almost every Wednesday. She says she likes that day in particular because she gets to take the residents to chapel. In addition to helping them to worship, Naomi enjoys serving meals, playing games and helping the staff whenever and wherever needed. She likes to make their load a little lighter.
    Lonita Englehart has been a resident here at Tel Hai for a year and a half. She tells us she was blessed to find work in a group home for mentally challenged adults while living in Ohio. She tells us, "This was a blessing to me and these wonderful people became my family." She goes on to say that she spent seven years working in three different group homes as a scheduled employee and at two other homes as an on-call substitute. She finds this work rewarding beyond words. Lonita settled in to Tel Hai life for about a year before she started her volunteer work here. But she has been volunteering for approximately one half year in Adult Day. Similar to the work she had been doing professionally, she finds this work to be very rewarding. She feels as if she has found her niche in life is in this area of service. She chose to volunteer because she wanted to be more involved in the community of Tel Hai, and she feels that Adult Day is a natural fit for her.
Above everything else, Lonita says, "I like interacting with the residents and staff. That's by far the favorite part of what I do. I like to brighten their day and make them smile. I get to play their games, take them on walks, and assist with serving lunch and clean-up afterwards." Staff tells us that Lonita is always available to assist in any other area as requested.
    Mark Cauffman can be found in Adult Day two evenings a week. Mark, who was featured in our Central Supply Volunteer Spotlight in 2015, originally started volunteering in Adult Day almost 2 years ago. He felt the most productive way to keep busy was to volunteer. After personal experience with our Adult Day department, Mark simply asked Tammy Jacobs, Adult Day Services Director, "Could you use some help?" and thus began his volunteering. He adds that he likes cheering up others each time he shares a friendly greeting and a smile. He says, "There's a lot of self satisfaction just to give someone a smile."
    Ginny Stoltzfus has been a resident at Tel Hai for more than 30 years; and has been volunteering almost as long. Ginny can be found helping in almost any department on campus at one point or another. She tells us, "It makes me feel good to be helping." Ginny volunteers in Adult Day Services on Wednesdays for a few hours. She really enjoys helping the staff.
Ginny can also be found helping in chapel, keeping the residents company in the Lakeview Health Suite, delivering Meals on Wheels in Tel Haven, helping her fellow residents in Tel Haven with their laundry or other tasks, helping staff in the Daily Brew with labels or wrapping silverware and many, many more areas. Ginny records hours almost every day of the calendar year and is one of our longest volunteer members. Whenever there is a task to be completed, Ginny is more than happy to help when she can.