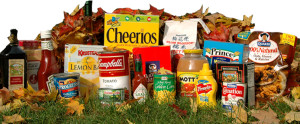 Tel Hai Retirement Community collected 425 pounds of canned goods and non-perishable food during March to support the Twin Valley Food Pantry in Morgantown.  Celebrating National Nutrition Month, Tel Hai collected food items contributed by residents, staff and greater community members over a four-week period.
Tel Hai is honored to help families in the Chester County community by joining forces with the Twin Valley Food Pantry, which supplies a food supplement to families in the Twin Valley School District who experience periodic food shortages due to lack of income.
One in six Americans find it difficult to physically and financially access foods and supplies that may nourish their body and keep them healthy.   Food insecurity is a reality for our neighbors in the community in which we live and work.  Hunger is not a short term problem; lack of nutrition can create long term problems from diabetes to heart disease.
Tel Hai Retirement Community, an accredited nonprofit continuing care retirement community, has provided high quality and compassionate care since 1956.  The campus is located at 1200 Tel Hai Circle, Honey Brook, PA., three miles east of Route 10 off Beaver Dam Road. For more information or directions, please visit www.telhai.org.