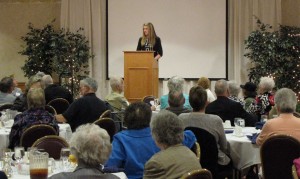 Tel Hai Retirement Community celebrated their valued and honored volunteers at their annual Volunteer Appreciation Banquet held Tuesday, April 14 at Shady Maple Banquet Facility in East Earl, PA.  During the calendar year, more than 39,000 hours of service were amassed by 375 volunteers, including Tel Hai residents and local community members.
The Volunteeer of the Year award recognized Louise Wenger for her extraordinary efforts in contributing to the betterment of community life at Tel Hai.  Since her volunteering efforts began in 2004, Wenger's responsibilities have included assisting in the gift shop, working the front desk, special event coordination and resident transportation assistance.
The Volunteer of the Quarter program, which recognizes individuals who offered distinguished service throughout the year, honored Betty Dowd, Dick Sauder, Skip and Judy Emery, Pat Richey, Al and Janice Fagerland, Joy Settles, Bill Rigg, Joyce Rock, Frank Baer, and the Tel Hai Quilters.
The Tel Hai OWLS program, standing for outstanding, warmhearted, limitless and serving, honored 80 standout volunteers.  The newly launched recognition effort honors individuals who have been a registered volunteer with more than 10 years of service and individuals who qualify for the President's Volunteer Service Award. The President's Volunteer Service Award recognizes volunteers who have contributed 250 or more hours per calendar year, or the equivalent of approximately 20 hours per month.
Tel Hai Retirement Community, an accredited nonprofit continuing care retirement community, has provided high quality and compassionate care since 1956.  The campus is located at 1200 Tel Hai Circle, Honey Brook, PA., three miles east of Route 10 off Beaver Dam Road. For more information or directions, please visit www.telhai.org.
PHOTO CAPTION: Amy Whary, Director of Volunteering, thanks Tel Hai Retirement Community's valued volunteers at the Volunteer Appreciation Banquet at Shady Maple Banquet Facility on April 14.