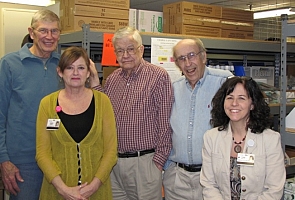 Central Supply is part of the Purchasing Department, which provides support and product to the healthcare center for medical supplies, resident personal needs items, respiratory equipment, and medical equipment.  Central Supply also coordinates daily deliveries of interdepartmental supplies and packages, which includes redistributing residents' packages to the mail room.
Central Supply has four volunteers who come in on a regular basis to help with their work: Herb Davis, George Fleet, Bob Thompson, and Mark Cauffman. When asked about the volunteers who work in Central Supply, staff tells us, "Our volunteers are so wonderful. We could not function without them." For their dependability and reliability, we thank these volunteers and highlight them in the Volunteer Spotlight.
– Herb Davis is a retired preacher. He moved to Tel about three years ago and started volunteering shortly after moving here. When asked why he started volunteering, he said "Someone asked me to help, and I said yes!" Herb doesn't consider himself to be a 'volunteer'. He says he is willing to help when someone asks for his help, but he doesn't regularly go seeking opportunities to help. Herb serves us in several volunteer tasks, among them are the Dining Committee and the Life Enrichment Committee, where he will be teaching a course on science and theology. He also preaches about once a quarter in our Chapel and helps our Veterans by serving on the Veterans Steering Committee. Herb doesn't have a favorite activity because he simply responded to someone asking him to help out. He goes on to say, "It's good exercise, and I get to know all the nooks and crannies around the campus. It's enjoyable to work with the staff, too." In Central Supply, Herb volunteers with package delivery twice a week. "On some days," he says, "it's a 15 minute job, and on others it takes an hour." Lillian jokes that she needs an appointment to see him! Herb grew up in a little coal mining town just past Scranton, PA. He met his wife, Lillian, at an event where she was playing bells, and they started writing letters to each other while he was over in Korea. After living on a farm, they moved to a few different places and eventually landed in Boston where they lived for most of their lives. Lillian was born and raised here, and, because she knew the area and they had a child and a few grandchildren in this area, they decided to move to Tel Hai. Herb's mother was one of the first residents in Lakeview, so he had a chance to see the place a few times and they really liked it. They really wanted a sense of a Christian community and found that here at Tel Hai.
– George Fleet also volunteers in Central Supply. He has been a resident for about 2 ½ years. A retired chemical engineer, George worked in an Oil refinery in Marcus Hook. Originally from Philadelphia, he spent most of his life in Glenolden and West Chester with his wife of 55 years – Ruthann. George tells us, he started volunteering a few months after moving here because he thought it would be a good way to become acclimated to his surroundings and opportunities. He realized volunteering was part of the fabric of the community, and he wanted to be involved and be a part of that fabric. He felt that if he had the time, that he should give that time in a meaningful way and volunteer. He was able to do that in ways that fit his schedule. George works in Central Supply delivering packages. In addition, he drives the campus shuttle, works in the wood shop, and he periodically directs traffic for events here at Tel Hai. He did a lot of wood working in West Chester and liked that there was a wood shop here. He will also help out Ruthann with her volunteer projects when he's needed. For example, he's making a door prize (from the wood shop) for the upcoming Ladies Luncheon event. When asked what he enjoys most about volunteering, George tells us he finds it very educational as had opportunity to learn more about Tel Hai as he delivers packages (where places are, different areas of the building, get to know different faces). He's glad to volunteer and help. And he finds it very rewarding to be part of the community. He also tells us, "Working with Toni and Cheri is very easy and a joy."
– Bob Thompson is another familiar face down in Central Supply. He has been a resident here for 9 ½ years. Born and raised in Lansdowne, Pa. he spent 3 ½ years in Utica NY for a job and then moved to the Lehigh Valley for 21 years until moving to Tel Hai. He worked in foundries for his whole life – started as an accountant, treasurer, sales manager and then plant manager. He received his B.S.C.E. (bachelor of science in commerce and engineering) and his MBA from Drexel. He tells us he can't remember exactly when he started volunteering, but, he adds," it has been at least 6 or 7 years." When asked why he started volunteering, he recalls the first volunteering he did was in the mailroom, and he started there simply because he was asked. He started out substituting, but it wasn't long before someone who regularly worked on Fridays wasn't able to volunteer anymore and then he took that spot. Bob likes to volunteer in the Mailroom every Friday and then return to Central Supply package delivery every Thursday and Friday. Bob also tends to the arrangements for the monthly Veterans brunch which includes the meeting notices, tallying same for Food Services billing purposes, and distribution and collection of the ID badges. When asked what he likes most about volunteering, Bob tells us, "Originally the main reason I volunteered was because it seemed like a good way to meet more people. In addition with each package delivery, I get some exercise, whether I really wanted it or not, and that makes my cardiologist happy." Bob also tells us that he likes to work with Toni and Cheri. He says, "They're the aces! And so easy to work with!"

– Mark Cauffman has lived here at Tel Hai for 2 ½ years. Mark grew up in Reading, Pa, and he moved around a lot before moving here. He lived in Whitemarsh Township for 17 years, Ohio, Milwaukee, and Lincoln Park. He has been volunteering since Sept. 2013. He tells us he started volunteering because he likes to feel he is productive and contributing. Indeed he is! He felt the most productive way to keep busy was to volunteer. After personal experience with our Adult Day department, Mark simply asked Tammy Jacobs, "Could you use some help?" and thus began his volunteering. In addition to his work in Central Supply, Mark volunteers in Adult Day twice a week and as needed in Lakeview. He also serves on the Life Enrichment Committee to help bring in events. He tells us he is open to other opportunities anywhere else that would need his help. On Tuesdays and Fridays he'll work 4 hours in Central Supply and then 2 hours in Adult Day. He helps escort residents in Lakeview on bus trips about twice a month. He'll also help marketing with special projects or activities when he's asked. Mark is actually the only volunteer for Central Supply who does not deliver packages; instead, Mark stocks gloves and other supplies in Assisted Living and does other tasks as needed. When asked about his favorite part about volunteering, Mark tells us, "It gets me in contact with people in health care and central supply." He adds that he likes cheering up others each time he shares a friendly greeting and a smile. He says, "There's a lot of self satisfaction just to give someone a smile. Toni and Cheri are so enjoyable to work for."
When we asked staff to tell us something about these volunteers, they said, "They are all the very best we could have hoped for: friendly efficient, always so reliable, and fun to interact with. They are all around great people. Mr. Thompson's memory puts us to shame. Mr. Davis's humor keeps us laughing and makes our days. Mr. Fleet's commitment and quick learning ability is exceptional. Mr. Cauffman is so willing, capable and reliable, and he helps us be a better department. We could not function without these gentleman…..We love them."
For their energy, wit, enthusiasm, and ever so helpful hands, we thank, Bob Thompson, George Fleet, Herb Davis, and Mark Cauffman, and we highlight them in our Volunteer Spotlight.